Beautiful Dry Card Compass
by F. W. Lincoln Jr. 
Mid 19th Century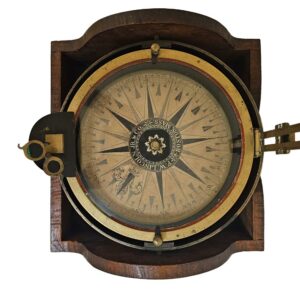 Dimensions
 Compass Face: 8″     Outer dimension of Compass:  9″             Case:  Ht: 10″x 12″ x 12″     Wt: 20 lbs.
Presented is a truly beautiful dry card compass by F. W. Lincoln Jr. Co. of Boston, Mass.   This is probably one of the most esthetically beautiful compass cards we have had the pleasure of offering.  Plus there is a substantial history associated with its maker, F. W. Lincoln, Jr.  Besides producing these stunning instruments, he was a direct descendant of Paul Revere and the mayor of Boston during the American Civil War period, 1857 to 1867.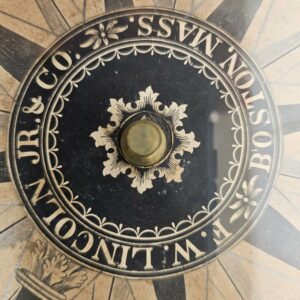 Very ornate compass card name of the F. W. Lincoln Jr. & Co  –  Boston, Mass.
This lovely dry card compass sits in a very heavy bronze housing, gimbaled in an attractive wood case.  The case has a fitted top for traveling purposes.  The compass is working properly, seeking North accurately.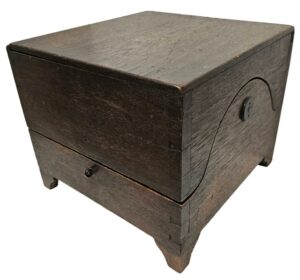 History of F. W. Lincoln, Jr.
"Frederick Walker Lincoln, Jr. was born in Boston on February 27, 1817, according to his monument in Mt. Auburn Cemetery in Cambridge, Massachusetts.  His grandmother was Deborah Revere, daughter of Paul Revere.  When he was thirteen years old, he was apprenticed to Gedney King and his son and successor, Charles Gedney King.   In 1839, Mr. Lincoln went into business for himself.  He continued for forty-three years as a maker of nautical and surveying instruments.  In 1883 he sold the business, F. W. Lincoln Jr. & Co., to Charles C. Hutchinson who had been a partner since 1858.  He continued the business under the firm name of C. C. Hutchinson until his death in 1898.  The firm was then taken over by his successors until 1940 under the same name.
In December 1858, Mr. Lincoln became Mayor of Boston.  He served in office until 1861, and then again from 1863 to 1867.  He received honorary awards for his support of the Union during the civil war.  In 1882 he accepted the position of Manager of the Boston Storage Company, the position he held at the time of his death on 13 September 1898.
"Reference:  Smart, Charles E.   The Makers Of Surveying Instruments In America Since 1700  Troy, New York:  Regal Art Press.  1962 and Wikipedia."