U.S. Navy Lifeboat Binnacle
with Quadrantal Correctors
by John E. Hand & Sons Company, Philidelphia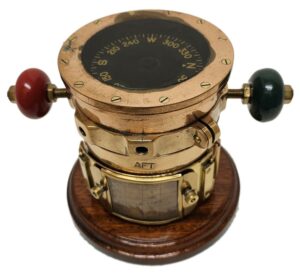 Dimensions:
Overall Ht: 5 3/4″      Wdt – Compass:  4 1/2″    Wdt w/ iron compensating Balls:  8 "   Wdt – Base:  6″    Wt:  9 lbs 1 oz.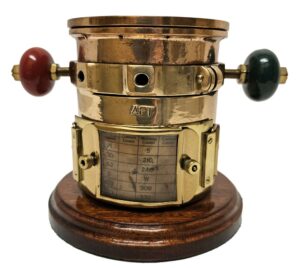 Presented is a truly elegant small compass designed for the U.S. Navy by John E. Hand & Sons Co.  It is designated a No. 5 Compass,  Mark 2, Serial 1.  Small Red and Green quadrantal correctors are made of iron to correct the compass deviation (quadrantal deviation ) resulting from magnetism from ferrous metal in a ship.  The compass has a table insert on the opening port housing the mechanism for adjusting the compass shipboard.  The table allows for noting the magnetic course and adjusted compass course correction.  It doesn't appear to ever have been used.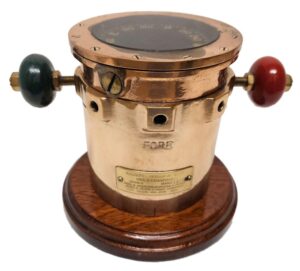 As this was not a stationary instrument, it is marked Fore and Aft to be placed accordingly aboard the vessel.
This fine instrument is truly unusual and would make an outstanding and very memorable gift or presentation piece for all with nautical & Maritime interests.
At some time the brass was polished and lacquered.  Some of the lacquer has worn off on the top rim of the compass accounting for the slight discoloration.  The compass is in excellent condition and searches North accurately.
 BRIEF HISTORY: The John E. Hand & Sons Company was founded in Philadelphia in 1873, quickly gaining a reputation
as competent manufacturers of nautical instruments and compass adjusters. The company founder, John Enos Hand, is is
reported to be "the first man in America to adjust a compass aboard an iron ship."
The Hand Company
built navigational equipment for all varieties of ships, and operated a chain of retail outlets with service facilities
in key ports, including Baltimore and New Orleans. Until 1956, these outlets sold Hand instruments as well as other nautical
accouterments and provided compass-adjusting services. Additionally, John E. and his two sons, John L. and Bartram, were
inventors, who patented design improvements for numerous instruments that were employed in the company's work.
The company was primarily involved in commercial shipping until the late 1930s when the United States military began
preparations for World War II. Though the Hand Company never completely abandoned its involvement with private industry, after
World War II, military contracts continued to be their major business. Of note is the wrist compass, which they developed for the
Navy beginning in the 1950s, and the Mark VII Model 5 Navy Standard Binnacle.
Though it moved numerous times, the Hand
Company headquarters and factory remained in the Delaware Valley, occupying several buildings in Philadelphia and southern
New Jersey. Maintaining its central office in Philadelphia well into the 1900s, the factory was moved to Atco, New Jersey
around the turn of the twentieth century and subsequently to Haddonfield, New Jersey. It moved one last time in the 1960s
to Cherry Hill, New Jersey.
In 1997, California-based Sunset Cliffs Merchandising Corporation purchased the Hand Company
and all its assets for a small amount, but did not make use of its brand name.