Diamond & Curve Pattern Sextant
from
Hearn & Harrison Co. Montreal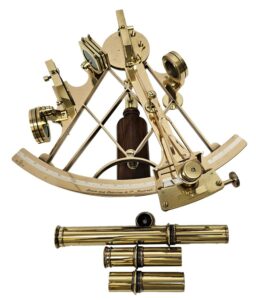 Presented is a beautiful Diamond & Curve pattern sextant, privately labeled by
Hearn & Harrison Co., Montreal, Canada. 
Price: $1200.00                             Shipping: $45.00
Sale Price:  $850.00
  Hearn & Harrison were developers and dealers in scientific instruments and apparatus between 1872 and 1880.  We were not able to determine the manufacturer of this instrument, although there is a mark of interest on the far left end of the arc.  This could also be a designation for Hearn & Harrison.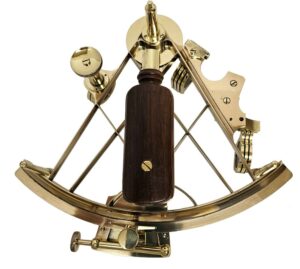 Back View
We have had this fine piece polished and lacquered for dramatic display.  This is more representative of its original condition.
Charles Hearn
Charles Hearn was born in Exeter, England but is recorded as working in Toronto, Canada starting in 1857. He moved to Montreal around 1860-61, where he opened shop as an "optician and mathematical instrument-maker." His surveying instruments had a unique design that combined his own ideas with American and British features. After his death in 1865, his wife Susan Watson Hearn took over running the company. Shortly after this, she married another instrument maker called Thomas Harrison, and the company became Hearn & Harrison. Like many instrument makers at this time, they did business with the government. After 1900 none of the original family was involved in running the company, which continued to operate until 1936.
Case and Hearn Label