Deep Sea Diver's
Inspection Lamp by Ceag Ltd.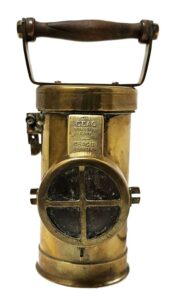 Presented is a Ceag Lt.d. Inspection Lamp No. 34, estimated date 1940s.  Established in 1912, CEAG located in Barnsley, UK, provides a range of high-quality lighting products and services for several different industries, major among them mining and marine.  The origins of the company are steeped in Mining but quickly the product ranges diversified into other industry sectors such as military, marine, railways, and aerospace.
Dimensions:  Ht. 9″     Width at front Handle:  4 3/4″  Depth:  5 1/2″         Wt:  4 lbs.  10 oz.
Side View and Interior of Lamp