U.S. Navy Spotting Scope
by Minneapolis-Honeywell
1943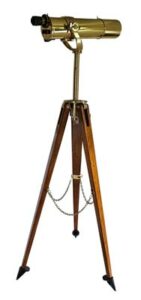 Dimensions on Tripod
Overall Ht. 63″ (adjustable on Tripod)    Wt: 48 lbs.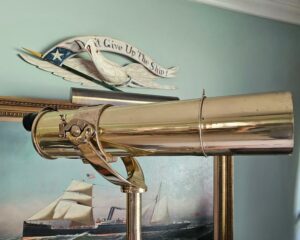 Scope: L 26″   Dia: 5″
Presented is a  beautiful Spotting Scope designed for the U.S. Navy, dated 1943.  Originally, it would have been placed aboard ship on a stable platform for sighting targets.  It has been adapted for terrestrial use on a finely finished oak tripod with brass fittings.  The manufacturer, Minneapolis-Honeywell,  has a long and successful history working with all services of the U.S., military in several areas of their expertise.  Their targeting and missile systems are aboard much of today's Naval fleet.
Right & Left of adjusting lense
Besides being a wonderful Naval artifact, this working spotting scope is an elegant and beautiful fixture adding
a bit of drama or importance to any setting.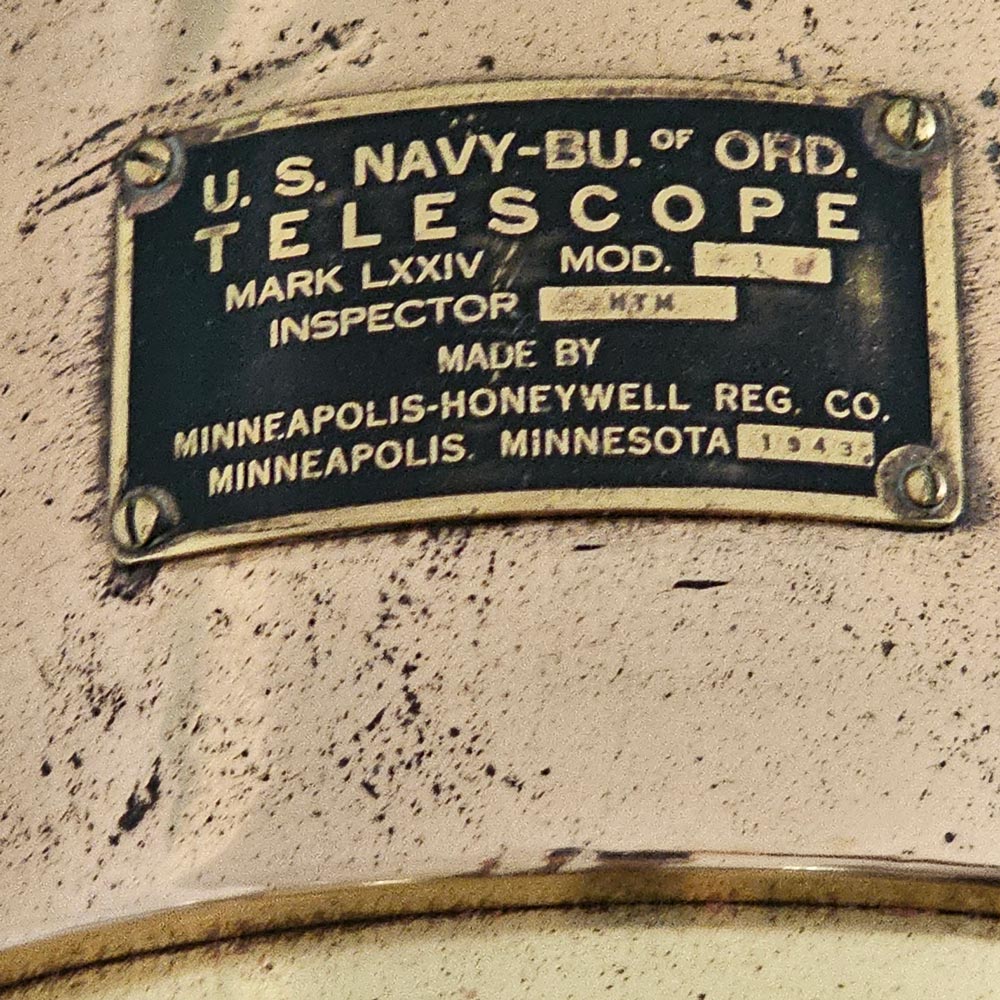 Top of scope
The spotting scope and tripod are in excellent condition.  The optics are clear and focus well.  The scope would have had a fixed and stable position on a ship using the original tripod by U.S. Metal Products of N.Y.   The current tripod was designed to fit into a terrestrial setting to accommodate and display or use on a non-moving surface.
Tripod Fitting for Spotting Scope
The beautiful varnished oak tripod was made for the scope within the last 10 years and displays as new.
Brief History of the U.S. Navy and Honeywell
A period of growth and development from the mid-1930s positioned Honeywell to become a global technology leader. The merger into the Minneapolis-Honeywell Regulator Company proved to be a saving grace for the corporation.
With the outbreak of World War II, Minneapolis-Honeywell was approached by the US military for engineering and manufacturing projects. In 1941, Minneapolis-Honeywell developed a superior tank periscope, camera stabilizers, and the C-1 autopilot.  The World War II-era Honeywell C-1 autopilot control panel revolutionized precision bombing and was ultimately used on the B-29 bombers. The success of these projects led Minneapolis-Honeywell to open an Aero division in Chicago on October 5, 1942.  Honeywell has continued a long history with the U.S. Navy developing the RUR-5 ASROC (for "Anti-Submarine Rocket").  This is an all-weather, all-sea-conditions anti-submarine missile system developed by the United States Navy in the 1950s, and deployed in the 1960s, updated in the 1990s, and eventually installed on over 200 USN surface ships, specifically cruisers, destroyers, and frigates.