Schermuly Line Throwing Gun/Cannon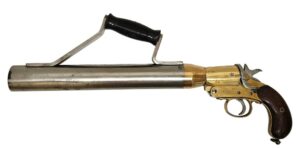 Presented is a fine example of a Schermuly Line Throwing gun/cannon.  It appears almost like "new", cleaned and polished in generally good condition. This is of WW II vintage and is exactly like the Schermuly's gun that is on display
at London's National Maritime Museum. This gun is complete in all respects.  It does not have the line and other parts that came with the kit sold by Schmuley.
Price:  $575.00       Shipping:  $55.00
BRIEF HISTORY: The Schermuly founder was William Schermuly
1857-1929. He was one of the fathers of modern rocketry. Although William started the business and developed many ideas,
it was his third son Alfred James Schermuly, the actual family pyrotechnist, who invented and put into production this
particular Line gun. Produced during the 1920s and was highly successful for the throwing of lines from shore to ship, or ship
to ship. The Schermuly system saved countless lives at sea. The example offered is a classic of this type of line-throwing
gun. It is of brass, and steel construction with walnut grips. SPRA is an acronym for Schermuly's Pistol Rocket
Apparatus.
This device is being sold for display purposes only. The black powder that was used as a propellant was
discontinued in 1952, and the powder available today is considered too powerful for safe use.
Length of barrel  13 1/2″            Diameter of barrel                 1 3/4″
Length Overall 20″            Length of pistol section          6 1/4″
Total weight 5 lbs. 2 oz.

The markings on the gun are:
On obverse side: 4865
On the obverse chamber: 15708
On the reverse of the frame: 1″ 1/P NP
SPRA in Oval and small crown over T
SCHERMULY'S
PAT No. 503324
The name Schermuly and Pat.  number are stamped on the forward handle strut
SPRA is an acronym for Schermuly's Pistol Rocket Apparatus
National Maritime Museum's Description: Line-throwing pistol consisting
of a long barrel with pistol grip and trigger which fires a
short blank cartridge. The cartridge is loaded into the breech of the pistol and the rocket is inserted into the muzzle. On
pulling the trigger, the gases generated by the fired cartridge eject the rocket on its correct line of flight, and at the
same time, burst through the waterproof disc and ignite the propellant mixture, which carries the rocket and line on the remainder
of the flight. The rocket (which is missing) consists of a weldless steel case filled with propellant mixture sealed in by
a waterproof disc. Fixed to the rocket case is a direction bridle, to the end of which a short length of flexible steel wire
is attached, this, in turn, being connected to the end of the line to be thrown. The number '503324' and the serial number '4865'
are stamped on the pistol.