Bronze Signal Cannon
on Victorian Iron Carriage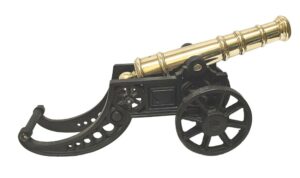 Presented is a bronze signal cannon on an ornate Victorian style iron carriage.
Price:  $850.00          Shipping:  $45.00
Signal cannons were used aboard ships and ashore to make salutes, to warn of danger, and to attract attention in the case of an emergency. They were also used to start yacht races. These cannons were generally cast in the style of the period to which they belonged. Although is it missing on this carriage, we have had one of these cannons in the past with a cap with a royal crown on the left side of the carriage covering a nut.  Its proportions are typical of a British field gun, and it is fitted to its original cast iron carriage. Note the touch hole which has been filled with some kind of temporary material and can be drilled out for firing.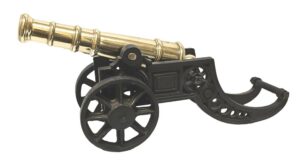 It is being sold for display purposes only and is not a working cannon.  The touchhole is blocked and could possibly be drilled out, but no attempt should be made to fire it without a gunsmith's inspection.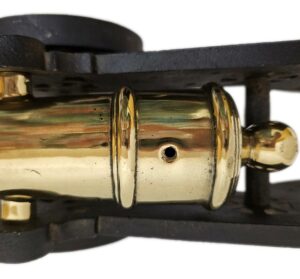 CONDITION: This is in good condition.  The cannon has been polished and lacquered for dramatic display. The touchhole is blocked but could be drilled out.  However, the cannon should not be fired without a gunsmith's inspection. The trunnions are cast as part of the barrel which is tight in the carriage. which is customary and the trunnion caps are part of the carriage. There are no mold marks or inscriptions.
Top looking down                                                                          Underside
DIMENSIONS:
Bronze Cannon 18″ Length overall              Length of carriage 15″
Length barrel 11 1/2″                  Bore 3/4″
Width of barrel at bore 1 5/8″
Width at last reinforcing band 2 1/2″
Width at wheels 5 1/2″
Weight of cannon 14   1/2 pounds