Bronze Dolphin Tiller Head

Presented is a stunning sailboat's tiller head of classical-styled Dolphins in brushed bronze.
Price:  $900.00            Shipping:  $45.00
Tiller heads like this were mounted on the inside stern cockpit with the lines from the tiller attached inside the pullies at the ends of the tiller head.  We find these beautiful pieces as great decorative additions to any maritine or nautical decor.  They make stunning wall mounts in nautical or any classical decor.
Dimensions:  Length: 20″  x  Ht. 5 3/4″       Weight:  8 lbs. 5 oz.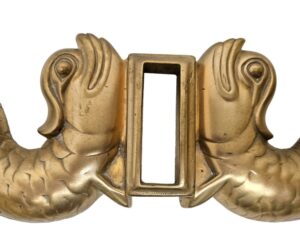 This highly decorative and dramatic tiller head would make an unusual and attractive
 addition to any nautical decor just mounted on a wall or specially purposed backboard.

Back view
A highly decorative and unusual gift for a special occasion for those with a nautical interest.