Decahedral 42 " Long  Finished Walnut
Maritime Telescope

 Length (No extension) 38″    Length (with extension)  42″       Width: 2″        Girth:  6 1/4″        Wt:  2 lbs. 5 oz.
Price:  $900.00           Shipping:  $55.00
Presented is a very dramatic and very long telescope.  It is very likely Engish in origin.  It is composed of a 10-sided piece of finely finished walnut with a nicely aged patina, a brass tube in the viewing end and both the lenses screw out for cleaning.  Both viewing lenses also have sliding covers for keeping the lenses safe.
The brass tube extends out at the by 4 1/2″ from the wood covering, bringing the total length of the telescope to 42″.  The telescope focuses out at a considerable distance.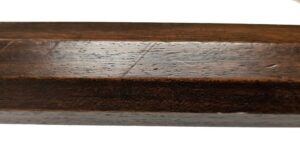 Showing the Walnut Finish
This is a highly decorative piece and makes  a great addition to a nautical display on a wall, or to add an accent to a maritime theme