Marina Style (Italian Navy) Dive Helmet
by Galeazzi of Italy, Ca 1940
 Circa 1940
Production – Italy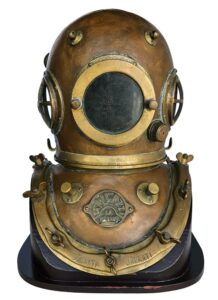 DIMENSIONS OF HELMET:  18" H x 13 " W x 15″ D
Total weight 42 pounds
Serial No. 33:598
Presented is an exceptionally fine example of an Italian Dive helmet by Galeazzi of Italy.  It is their "Marina Style" manufactured for the Italian Navy during the WW II period.  It is very similar in design to the Siebe Gorman hat which the Italians used before the war.
Condition: The helmet is in excellent condition with all parts intact only missing one wing nut on the brailles.  There is a small indent at the top of the bonnet indicating its obvious use at some point.  It is missing one wing nut. It has a wonderful rich aged patina.
Measurements Height: 20″  (measured from base of corselet to highest point on bonnet)
Width 13″ (measured between the two widest points of the bonnet and corselet included)
Depth 15″ (measured between the most forward projection of the bonnet/corselet and the furthermost rear projection of the bonnet/corselet)
Materials: Solid brass and copper, glass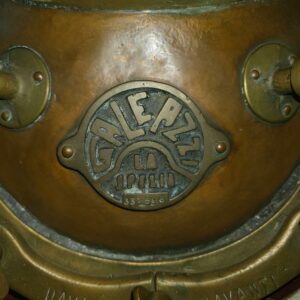 Signature/Marks Manufacturer's name plaque (centre front of corselet). GALEAZZI
LA
SPEZIA
33:598
The Serial Number 33:598 is repeated on the upper and lower neck rings and the front light (window).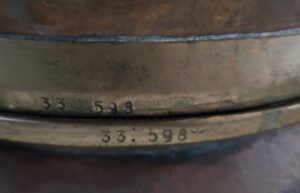 Davanti is stamped on the front centre, left and right, brails.
Dietro is stamped on the back centre, left and right, brails.
This dive helmet has resided in a private collection for the past 20/30 years.
| | | |
| --- | --- | --- |
| | | |
Like all our helmets, this is being sold for DISPLAY ONLY. It should not be dived without having
passed inspection by a certified dive shop.
The Galaezzi Marina helmet is a premier collectable for anyone wishing to acquire an exceptional example for their collection or just as a great example of dive history.
History and Use Before WWII
The Italians had used the English Siebe Gorman diving equipment but this supply was soon cut upon their alliance with Germany at the commencement of WWII. The Italians began their production, the most famous being the Galeazzi company. Founded in 1938 by Roberto Galeazzi, the company became especially famous for the production of all kinds of hyperbaric diving equipment, atmospheric diving suits, observation chambers and oceanographic research systems. Besides this, they produced diving helmets in three (3) styles: Marina (Italian Navy Standard), Grand Luz (Large Faceplate) and Titano (Lock Device Neck Ring).