Vintage Korean Dive Helmet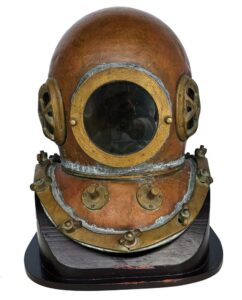 DIMENSIONS:
16 1/2″H x 14″ W x 16″ D
Circumference 36″
Weight 35 pounds
Presented is a fine example of a vintage Korean  three-light,
12-bolt,  helmet, likely made around 1930. Even though it looks similar to a Siebe Gorman, except for its crisscrossed
guards over the side lights, it is smaller and substantially lighter in weight.  It is in very good condition, with a slight indent around the left side sight.   It has a very pleasant patina.  The soldering rings around the breastplate, front light, and neck ring are evident but uniform.   There are no numbers anywhere on the helmet which is typical of the Korean hats.
This fine example of a  WW II era dive helmet has been in a private collection for the last 20/30 years.
Like all our helmets, this is being sold for DISPLAY ONLY. It should not be dived without having
passed inspection by a certified dive ship.
View on left shows slight indent 0f copper around the top of the light
Back View and Interior of Bonnet