Large Ship Navigation Lamp by
G.Gillard of Auckland, New Zealand
Presented is a very large antique kerosene ship's navigation light.   The maker's tag on the front is imprinted G Gillard, Cert Maker,
Auckland, and shows the serial number 966.
This fine lamp was intended for use when a ship was "Not Under Command".  This generally meant that the vessel was restricted in her ability to
maneuver, aground or without propulsion. The red all-around filter that was used for this purpose is removable so that the lamp will
show a white light when in use as an anchor light.
Navigation lamps this size and in good condition are a great addition to any maritime collection.  The "New Zealand" pedigree makes this an even more unusual and collectible piece.
Side Views showing top and bottom brailles allowing for controlled raising and lowering of the lamp
DIMENSIONS: 
Lamp not counting bails, 22 1/2
"  high    
Overall height 25″          Circumference: 30″
Lens:  8″ W x 7″ H          Weight 20 lbs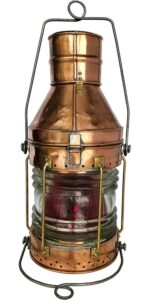 Back View
Photo on left showing red removable liner and on right, showing makers label
An internal hurricane chimney was not necessary.  Note the large bail
or stirrup at the bottom of the lamp which helped guide it when it was raised or lowered.After fueling,
this lamp would  last for about eight days.