Desco Commemorative
Commercial Diver's Knife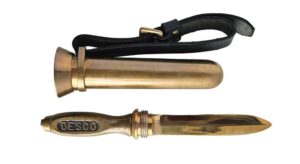 Weight:  4 lbs
Overall L: 13 1/2″      Lgth – Knife:12″
Presented is a Commemorative Diver's Knife produced in a limited quantity by Diving Equipment & Supply Company (DESCO). It follows the design of the U.S. Navy's dive knife.  This one is numbered 55 out of the 200 that they produced.
This presentation knife is different from the standard US Navy divers knife and was made a for dramatic display with its highly polished brass blade. The edition numbers are clearly stamped both on the knife and the sheath,  This impressive model was also made with a brass blade with the DESCO name cast into one side of the handle and the blade.
Diving Equipment & Supply Company (DESCO) was formed in 1937 as the manufacturer of the newly designed diving equipment at that time and has been a premier supplier to the commercial diving community ever since.