3 Light 12 Bolt
Chinese Dive Helmet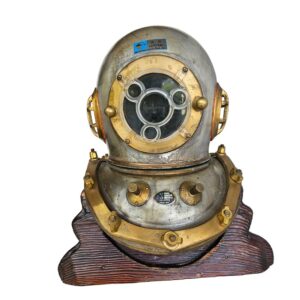 STAND NOT INCLUDED
DIMENSIONS:
  18″H x 13 1/2″ W x 13 1/2″ D
Weight 40 pounds
Presented is a lightly used three-light 12 bolt Chinese dive helmet. The helmet has its original tinning so we're assuming that it did not see a lot of use.  It has been in a private collection for the last 20 years.    The front light has a line of solder around it for waterproofing, and the side lights may have been reseated.
Side Views
Back of the helmet showing
the comm fitting next to the air supply check valve. The exhaust valve to the right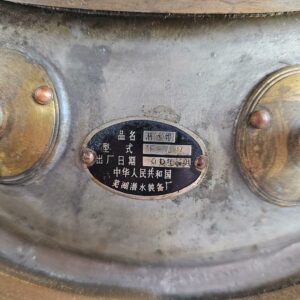 Labels of identification (not discernable by us)
Like all our helmets, this is being sold for DISPLAY ONLY. It should not be dived without having
passed inspection by a certified dive shop.