Morse Shallow Water Dive Helmet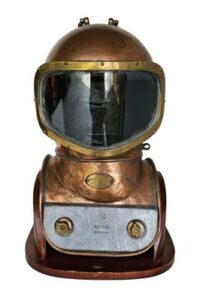 DIMENSIONS OF HELMET:  21" H x 13 1/2" W x 15 D
WEIGHT without weights 22 lbs
Two weights 17 1/2 lbs each
Total weight 54.5 pounds
Serial No. 6071
Presented is an authentic Morse No. 15 Shallow Water diving helmet which was probably made in the mid-1940s toward the end of production of this hat in the early 1950s. It has been cleaned and restored to almost new condition.
The design of the Morse No. 15 Shallow Water
helmet dates back to the 1930s and production ceased in the 1950's. It was primarily used for underwater work on vessel
bottoms and in various forms of underwater construction. Sponge and Abalone divers preferred its large size viewing
port which was originally made in glass, but later changed to plastic. There is a
channel inside that vents to both sides of the viewing port with the air entering at the back.
This was the only shallow water helmet Morse offered.  The single large piece of curved glass allowed the diver a wide field of view. The curved window and overall design have also made this model a favorite among collectors.
The Morse Shallow Water helmet was originally produced in the early 1930s. While not as big of a seller as the Miller Dunn Divinhood Style 2 and 3, they were marketed towards police & fire units and the US Navy. This helmet features the factory serial number on the top edge of the brass window frame. This serial number dates the helmet to around the end of WW II.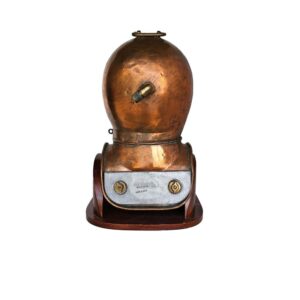 Like all used diving gear, this is being sold for DISPLAY ONLY. It should not
be dived without having passed inspection by a certified dive shop.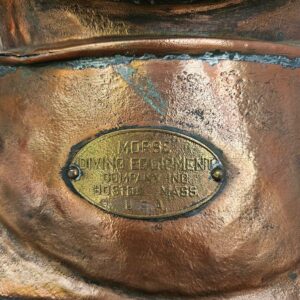 BRIEF HISTORY OF MORSE DIVING:
In the arena of deep sea diving, there are few companies with the longevity and history
of Morse Diving. The company was founded in 1837 as a Boston maker of brassware, three years before Englishman Augustus Siebe
manufactured its first closed-air dive helmet. During the Civil War, the firm commenced building maritime fittings and began
experimenting with early underwater hardhat designs from Siebe-Gorman and other pioneering makers. In 1864, Andrew Morse bought
out his partner, introduced his sons to the business, and began to focus on creating new products for underwater salvage
expeditions. Morse was the first company to make the Navy MK V helmet, starting production in 1916. During the onslaught of
World War Two, DESCO and Morse provided most of the dive helmets for the navy. Because of the large amount of surplus helmets
that entered the market after the war, the diving business went into a decline from its Glory Days.  DESCO  remains an important producer of diving equipment including the very popular Mark Vs.