Russian 3
Bolt Dive Helmet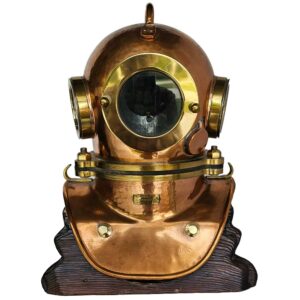 DIMENSIONS:
17" H x 15 1/2" W x 17 3/4" D Handle + 2"
TOTAL WEIGHT 34 lbs
Presented is a 3 bolt, 3 light Russian helmet, Circa 1991.  It is in exceptional condition.  This helmet was made at Factory 28 located in Leningrad in 1991 as indicated by the brass ID plate. The three-bolt style was favored by the Soviet Navy and was their primary diving helmet.
The helmet's tag reads:
28  BOEM,3-4, MN 100    1991
Inside the triangle is 11 over DTK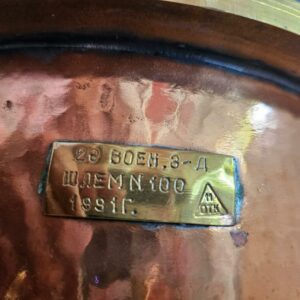 The helmet mounts by three bolts to the corselet, and comes apart easily. The interior is clean and has 99% of its tinning.
There is a cup for a microphone and the vent cover which deflects the air supply to over the front port are present. The front
port unscrews. There is only
one air vent in this design, but no spitcock, and no check valve.
The helmet has the appearance of being hammered out on a
buck which is the old way of forming them before spinning became the accepted choice.
The Russian hats have become more popular with their appearance looks and pricing.  They have a dramatic appeal and ones in this fine condition make a considerabl statement in any decor.
The helmet has a wonderful patina to the copper body and brass hardware. This helmet also shows the attractive hand hammer finish beautifully. All the correct hardware is present, including the window frames, faceplate, glass, 3 bolt nuts, air vent, and top handle. The copper body is in very good condition. The bonnet and breastplate fit together with ease. The large rubber neck ring gasket is present.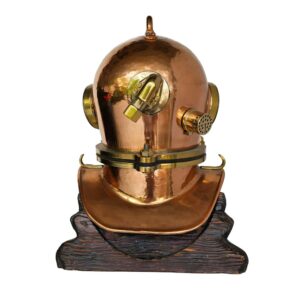 Back View
Inside bonnet's large vent and tinning
Like all used diving gear, this is being sold for DISPLAY ONLY. It should not
be dived without having passed inspection by a certified dive shop.