Cased Model of the Revenue Cutter
" Liberty"
by William Hitchcock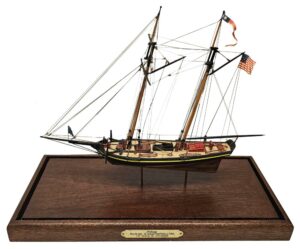 Dimensions:  Glass Case:   HT:16 1/2″ x  Lgth. 13″ x W 71/4″                   Model:  L Overall: 12″   Deck L 8″   W  2 3/4″   Overall Ht. 11″
Presented is a beautifully executed model of the Revenue Cutter "Liberty" by esteemed Model maker William Hitchcock.
The United States Revenue Cutter Service was established by an act of Congress on 4 August 1790 as the Revenue-Marine upon the recommendation of Secretary of the Treasury, Alexander Hamilton to serve as an armed customs enforcement service.  Immediately after the American Revolutionary War the new United States was struggling to stay afloat financially. National income was desperately needed, and the government determined that a great deal of this income would come from tariffs on imports. Because of rampant smuggling, the need was immediate for strong enforcement of tariff laws. On 4 August 1790, the United States Congress, urged on by Hamilton, created the Revenue Marine, later renamed the Revenue Cutter Service
Detail of Bow  and Mid-deck fittings

 The hull lines of this model with its sharp, "V"-shaped cross-section below the waterline and strongly raked stem, stern posts, and masts are very similar to the fine Baltimore Clippers of the period.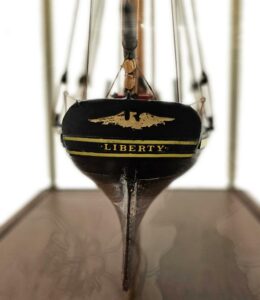 `1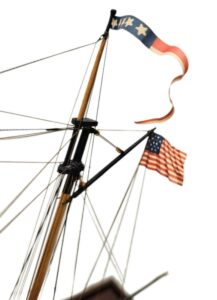 The American Marine Model Gallery has been the source of exceptionally fine ship models for many years.