Dramatic Semaphore Signal Lamps 
Late 19th to Early 20th Century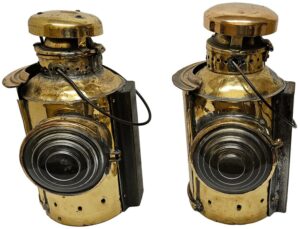 Presented is a fine pair of turn of the 19th Century Semaphore signal lamps.  In our research, the closest examples of these lamps we could find were the signal/semaphore lamps used in railroad switching yards or stations.  We date these to be late 19th or early 20th century.
The industrial character and large size of these lamps  produce a very dramatic display presentation
Price:   $950.00        Shipping:  $75.00
Side Views
Dimensions:  Ht:  14″     With Brail:  17″       Wdth:  8 1/2″                 Wt:  Ea. 7 lbs 12 oz.      Total Wt:  15 lbs, 8 oz.
The semaphore lamps were used by personnel in the railroad yards and on the edge of the track to signal warnings of problems or dangerous conditions such as work in progress or track repairs, etc,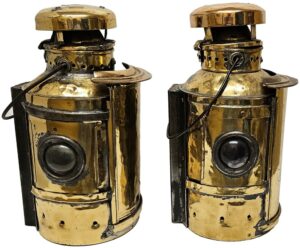 Back Views
Condition:  The lamps have seen considerable use which is not surprising given their industrial application.  The glass lenses on both sides are in good condition showing no cracks.  Each lamp has its fuel container.  The lamps have been polished for display and show several dents and some solder repair work.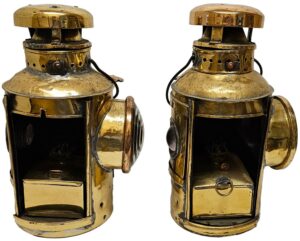 Open Views on Side
Interior View and Oil Container