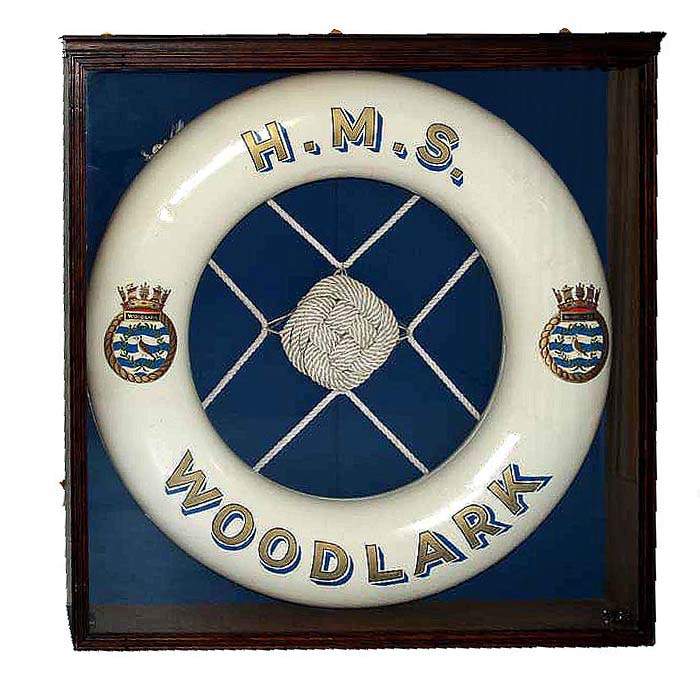 Presented is an authentic Royal Navy life ring from the HMS
WOODLARK housed in a custom antique wood case that appears to be of "Turn of the Century" origin.

Back of the Turn of the 20th Century Wood Case
THE FIRST HMS WOODLARK: The Royal Navy's first WOODLARK was built in 1871 as a combination
steam and sail gunboat. She was rated at 10 knots speed, 755 tons displacement, and 170 feet long with a 29 foot beam. She
was sailed by a crew of 90. WOODLARK I was the Senior Officer's ship in the Persian Gulf, and in 1885, she
took part in the Burma campaign as part of the Irrawaddy Flotilla. In 1887, she was sold in Bombay.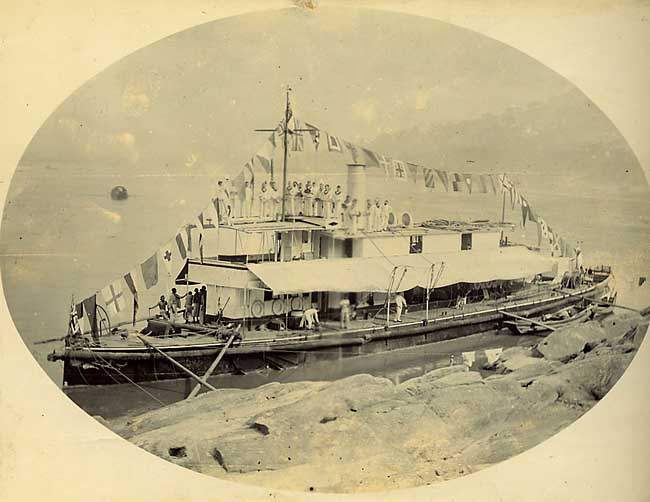 The first HMS WOODLARK above
THE SECOND HMS WOODLARK: This WOODLOCK was built by Thornycroft
in 1897 as a river gunboat of the Fowl Class. She was 145 1/2 feet long with a beam of 24 feet, a draft of only 2 feet, and
of 150 tons displacement. Her armament consisted of two 6 pounders, and 4 machine guns. Her 550 HP engine provided a speed
of 13 kts. 25 men in her crew.


WOODLARK II saw service on the Yangtze River and was the second
steam ship to reach Chunking in May of 1900. The ship was originally intended for Kitchener's Nile campaign but were shipped
to Shanghai in pieces and re-assembled instead. She was instrumental in surveying the upper Yangtze and its navigable tributaries.



This Woodcock was reportedly sold to Hong Kong in 1928 or 1931 for scrap after being
replaced by an Insect Class river gunboat.





The picture above is reported to be of WOODCOCK taken Ca 1898
on the Yangtze River.


DIMENSIONS:

Case: 33″ W x 33 1/2″ H x 6 3/8″ D WEIGHT 46 pounds

Life Ring: Outside Diameter 29″ Width of ring 6″

Inside Diameter 17″



PROVENANCE: Purchased in England. We have two reasons to believe
that the life ring may come from the second of the two WOODLARKS. The first relates to the life rings shown in the above photo
which appear remarkably similar in size. And the second reason is that the custom case in which it is housed appears to be
old enough to be made in at the "Turn of the Century".