GIANT BRITISH VINTAGE REFLECTING COMPASS


Reflective compasses are one of the rarest
found. This one is a perfect example of a mid 20th Century BIG SHIP'S compass which was mounted in the pilot house.
Presented is a very
large dry card tell tale compass. It has a plastic dry card which is housed in an enormous polished brass gimbaled case that
is suspended from a gimbal mount. The entire assembly shows numerous repairs made over its life, but is in excellent condition
and works perfectly.
ITS USE: This type compass was designed
to be mounted inside a binnacle in the ship's pilot house. A mirror reflected the card's image in such a manner that the observer
could easily see the ship's heading. Since the mirror reverses the image, the compass card's markings are in reverse when
viewed directly. At first glance, it looks like a telltale compass which uses
the same principal, but it is first designed to be viewed from above otherwise its compass card would fall off the pivot point.
However, because the underside of the compass card has the normal orientation it can be read from below.
This compass is a wonderful example of a high
quality English instrument made in Hull, England, a port renown for its whaling and fishing fleets from the 13th Century,
and the home of Trinity House and Trinity Navigation School since 1369
You may view Northrop Grumman's current technology
of a reflective compass system here. Gyrocompasses
THE COMPASS CARD: The North point
is without embellishment. The outer ring of the compass card is graduated in degrees from
0 to 360. The inner subdivisions are in Cardinal Points, N.S,E,W, and quarter points, NE,SE,SW,NW, are all of equal size,
and then 1/2 points, 1/8 points and finally 1/16 points are noted. There are 32 points on the compass card, each being 11
1/4 degrees.
MARKINGS: "H.S.T.M.I. Co. Ltd." and
"HULL"
CONDITION: This ruggedly
made antique compass is of all brass construction with a stout gimbals. Its condition shows numbers solder repairs whose silver
color contrasts nicely with the golden brass. All surfaces have been recently polished with a nice rich golden patina. The
compass works properly. The card has a minor age crack at 320 degrees.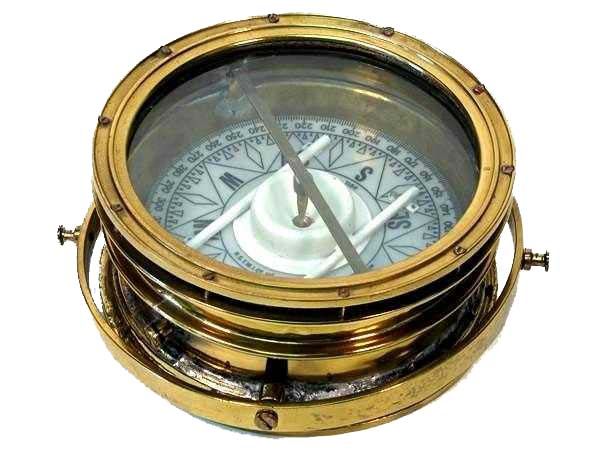 Side View

Bottom of compass card showing magnets
DIMENSIONS:
Diameter of bowl 10 1/2″
Diameter of card 8″
Depth of compass 5 1/8″                WEIGHT 15 1/2 lbs