This Fine Sextant Has Been Sold. Thank you!
5 PLUS STARS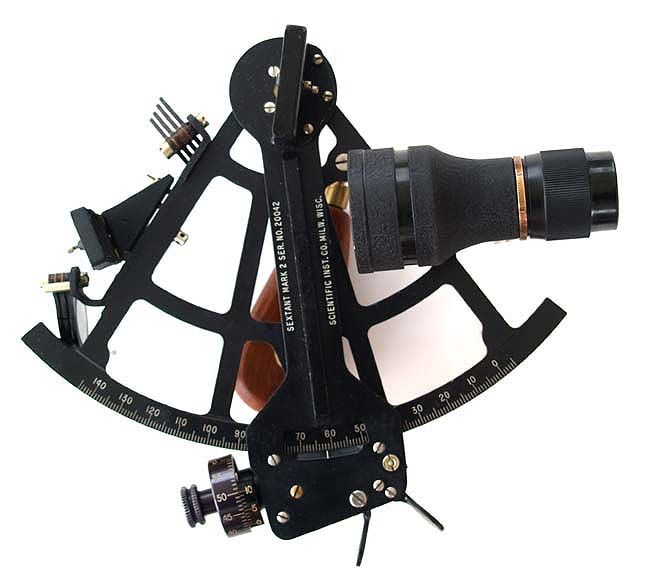 Presented is first U.S, Navy MK II sextant that we have ever offered. So many of them were made during WW II and later to make them common place so we always preferred to offer its progeny, high quality MK III's instead. However, this one is so absolutely outstanding and flawless that we couldn't resist its purchase. It is of the finest "Collector Quality", and was made for a very special purpose. The larger than life telescope features oversize objective and ocular lenses even when compared to sextant's of the latest design. We are now offering it for sale to a connoisseur of nautical instruments who will appreciate all its refinements and custom features. With its wide objective lens and small side shades it is obvious this instrument was designed specifically for twilight observations. Its arc reads to 145 degrees which was standard fro this design, makes it more properly
a quintant. Index error is about 3 seconds on the arc and side error is minimal.
In this case, we present Serial No. 20042 as modified by Scientific Instruments of
Milwaukee in 1975. With the passing of time the reason for making such a magnificent instrument has been lost so what we have is the result of some extraordinary effort. It comes complete with all its accessories, its Mahogany case, and includes its last inspection certificate dated 12/12/75.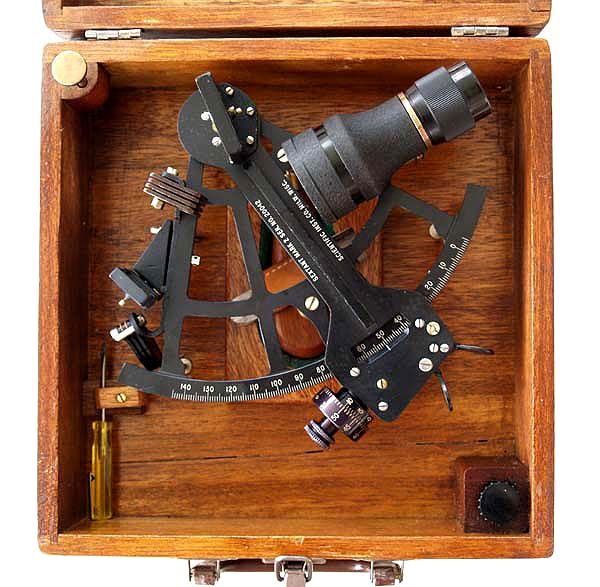 Listed are one of a kind design features, that are not present in the standard
U.S. Navy MK II:
Large size wide angle monocular
Coated optics of large size, 40 mm and 15 mm
Custom made rising piece
Polished bronze arc with "120" mark
Polished stainless steel hardware and fittings
Polished and varnished bronze legs, arc, rising piece, and more
Vernier reading to 6 seconds
Non adjustable instrument error of less than 20 arc seconds
Custom Mahogany case with tag
CONDITION: The sextant is immaculate. It shows little wear or use so that it can be considered as new in all respects. All its machinery works well. Both fitted mirrors show as NEW without exception. The numbers match on the case, instrument and certificate. In contrast, the nicely finished case shows it has seen service and it has some scrapes inside and out that are very minor. The index error is 1 minute on the arc, and there is no side error. The last certificate is included.
No locks are fitted to this style case.
Non-adjustable instrument error is less
than 5 arc seconds which is much better than the best contemporary sextants which are rated at less than 20 or 10 arc seconds.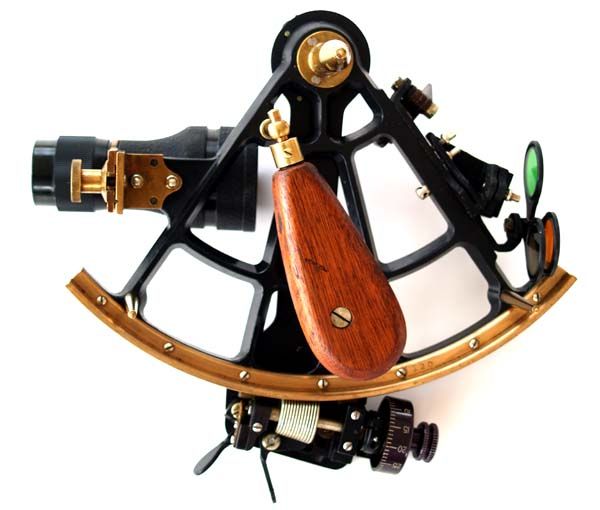 STAR RANKING: This sextant rates 5 PLUS STARS
BRIEF HISTORY OF SCIENTIFIC INSTRUMENTS: Scientific Instruments was founded by two former employees of Milwaukee based, David White Co. in 1958. Most of the original employees were also ex-David White personnel. David White did a lot of military work during WW2 and was one of the principal manufacturers of Navy MK II's. After the War, they were forced to down size as the markets changed to peacetime production.
Thus a ready pool of talent was available to SII. SII purchased the inventory of MKII parts as well as several
pieces of machinery including a collimator from David White. Scientific Instruments never built the MkII, but did
manufacture various spare parts and did repairs over the years. They picked up on the heritage of their neighbor, and
became a government contractor on the Navy's successor sextant the MK III.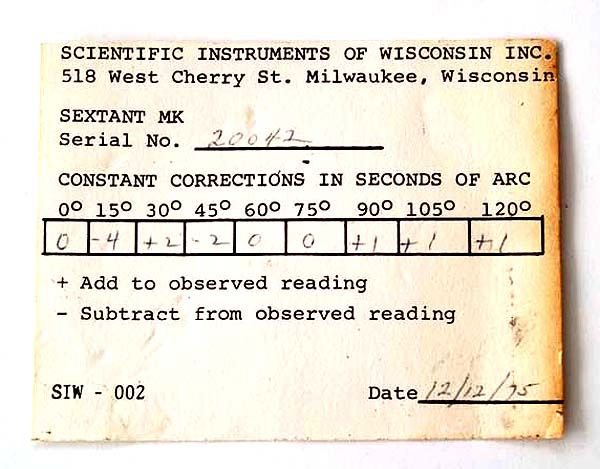 Certificate of error < 5" arc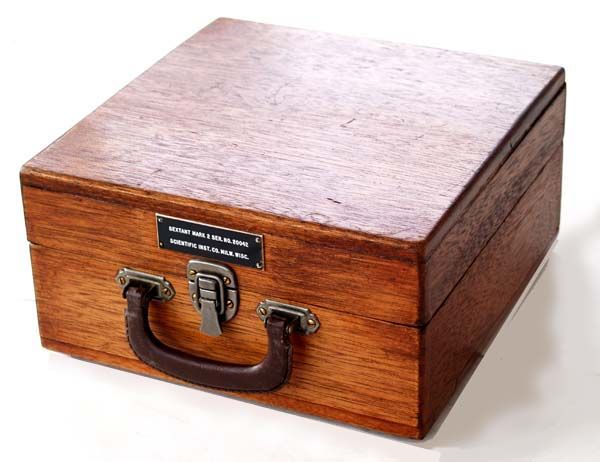 Handsome custom case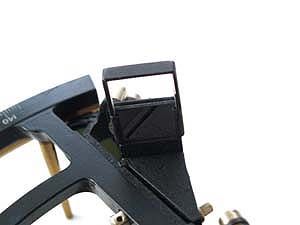 Like new horizon mirror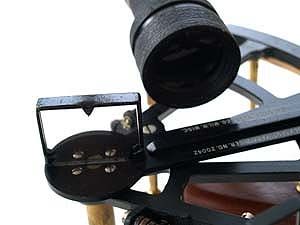 Big optics-Flawless index mirror
This is fine sextant in exquisite condition and is backed by our guarantee of satisfaction. It requires someone who can appreciate the fine points of a sextant, and is willing to pay an appropriate price for this level of uniqueness, quality and excellence.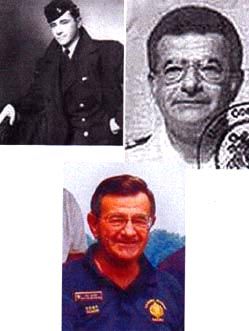 DOES MY OPINION COUNT: We are one of the few company's still selling navigation instruments that know anything about them. For purposes of judging whether my opinion counts, I was the editor of the chapter on sextants of the 1977 Edition of "Bowditch", The American Practical Navigator, NAVPUB 9; a member of the U.S. Naval Academy Navigation Symposium Board, 1975 -1978; the author of a book on marine sextants, Cornell Maritime Press,1975, and the founding president of Nautech Maritime Corporation which partnered with Tamaya of Japan in the introduction of the MS 733 Spica, the MS 833, Jupiter, MS 933 Venus sextants and the famous NC-2 navigation computer, in the U.S. market. I also am a retired Master Mariner, and held a U.S. Navy "D" Qualification as a Senior Skipper – Oceans. From 1995 until 2001, I served as a Varsity Offshore Coach at the U.S. Naval Academy.
U.S. NAVY MK II SPECIFICATIONS:
Measuring Range: -5 to 145 degrees
Accuracy:
Tested to +/- 20 arc seconds
Telescope: 4 x 40 mm
Coated optics
Frame: Aluminum with black enamel paint and white numbers
Arc: Bronze
Micrometer Drum and Vernier Scale: reads to 6 arc seconds
Index Mirror: 44 x 34 mm with spare
Horizon Mirror: 28 x 21 mm
Shades:
4 for index mirror
3
for horizon mirror
Illumination: No
Weight
sextant: 2.5 lbs, Weight case in case 8 lbs.
INCLUDED ARE:
1 Sextant frame
1 4 x 40 Scope
1 Mirror adjustment tool
1 Screw driver
1 Mahogany sextant case. No locks
1 Certificate dated 1975