M 1860 Naval Cutlass Dated 1861


Presented is an Ames, Civil War, M1860 cutlass
which is missing its scabbard. The blade is properly marked with the Ames shield showing partially on the reverse and the
1861 date on the obverse. Missing are the customary inspector marks or rack marks, wire wrap and leather on the grip, but
the Ames serial number 4M934 is present on the back inside of the top of the guard. Overall, there is evidence this cutlass
has seen some serious use.
These cutlasses have become so hard to find so that
even in this grade they have become a rare find. This one is priced to reflect its shortcomings. CONSTRUCTION OF GUARD: The knuckle bow
has a flange which accepts an elliptical guard which acts as a hand shield. Most if not all of the original varnish is gone.
The curved hand shield is riveted to the flange and forms a solid half basket guard. The leather covering over the wood grip,
and wire wrap have been worn off.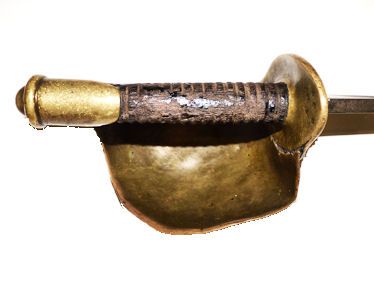 Grip missing leather covering and wire wrap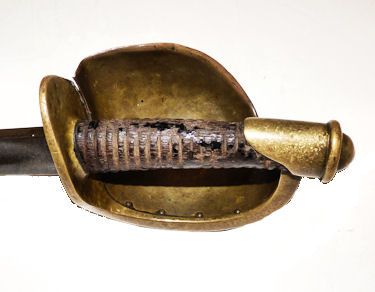 Slight bend at left corner
MARKINGS: For the perfectionist, the main fault with this cutlass
is that over the years the maker's mark is hard to see and much of it has worn away. There are no U.S. Navy imprints showing
it was inspected or rack marks showing it saw military service. The Ames serial number assigned to this weapon and reads as
4,734 out of the 25,000 delivered, including contract extensions so it was made early enough to have seen service in the Civil
War.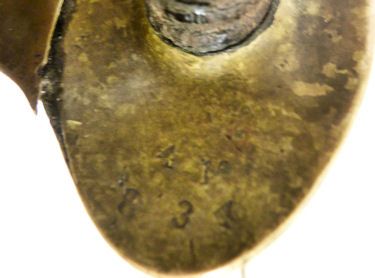 Ames Serial Number 4734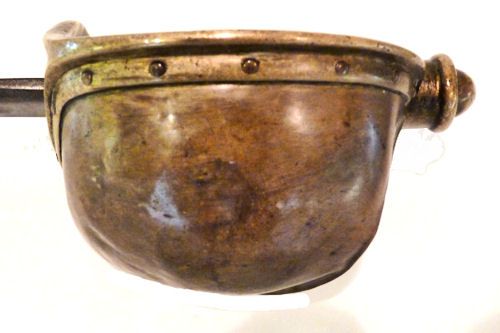 Bottom of guard showing rivets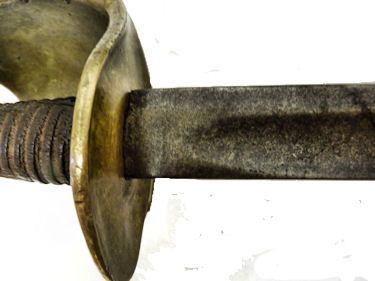 Date 1861 is just below the guard
BLADE CONDITION: In addition to what has been described elsewhere,
the blade and all individual parts are tight and correct. The blade is sharp and has a mottled Grey finish. The scabbard
is missing.



Revers and obverse of blade showing mottled coloring DIMENSIONS:< Cutlass 32″ long overall. 25 3/4″ blade lengthMax width of blade 1 3/8″ Max thickness 1/4″ Fuller 3/4″ W x 19″ L Weight 1 lbs15 oz < This is a worthwhile example of an Ames, Civil War Cutlass and will be appreciated
by those who value historic weapons!
BRIEF HISTORY Ames Mfg. Co.:
The Ames Manufacturing Company, Chicopee, Massachusetts, was founded in 1832 by James Tyler Ames and his brother, Nathan Peabody
Ames. The company manufactured small tools, cotton machinery, swords, cannons, and did casting of bells. They started production
of military contract swords in 1832 with the M1832 foot artillery sword, and ended with the M1906 cavalry saber in 1906. Ames
produced more swords for the American military than any other company before or since, totaling over 200,000 swords in service
by the end of the Civil War. In that time, at least ten different manufacturing marks were used on the swords. A little knowledge
of the company history helps place a date range for when each stamp was used. When the company started producing swords it
was led by Nathan P. Ames, and most marks reflected that fact. In 1847, Nathan died and left the company to his brother James.
The markings on the blades were immediately changed from N.P. Ames to Ames Mfg. Co. In 1848, the town of Cabotville was incorporated
into Chicopee, Massachusetts, and the marks were once again changed to reflect this. Blades dated as late as 1850 may still
bear the Cabotville stamp, as the old dies were probably used until they were worn out. In a much reduced state, they are
still in business today. Mostly, from an essay by sword expert, Michael McWatters