1935 SETH THOMAS MERRIMAC
VINTAGE SHIP'S BELL
INTERNAL STRIKE CLOCK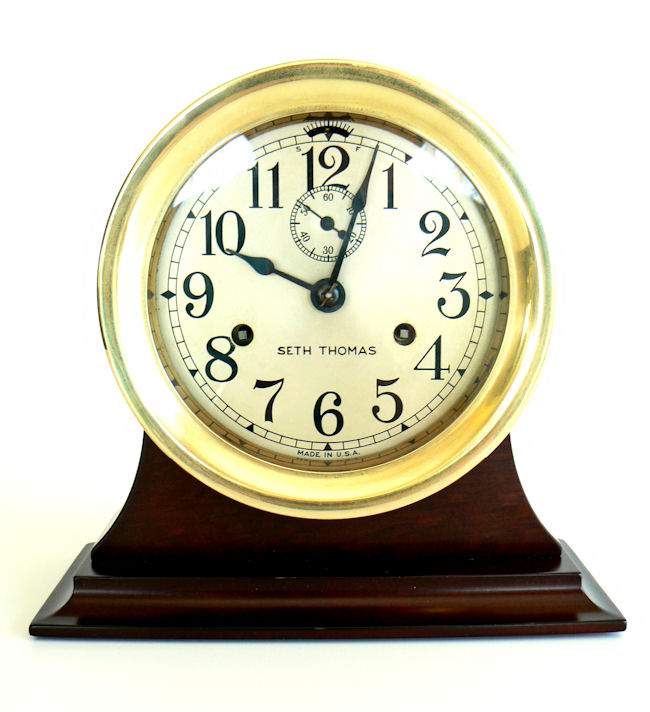 Near Mint Original Condition!
An exceptional 75 year old Merrimac ships internal bell clock with the unique internal
double strike bell movement that is in near Mint original condition. A real collector's piece!
Presented is a Seth Thomas ship's bell Merrimac clock which
keeps precise time and is in superior condition. It has a 5" silvered dial
as viewed through the bezel which measures 6″ in full diameter with  screened Arabic numerals in black and
blue-black spring metal spade hands. All like near new condition. SETH THOMAS is marked below the center arbor
and Made in U.S.A. is marked below the "6".  The cartridge brass case features a hinged bezel, and unique perforated
bottom. The display stand is included.



 

The clock is fitted with a 30 hour Number 7 movement with a large size bell and twin striking hammers
that sound the time on the hour and half hour in standard ship's sequence making a distinctive ring. 

   Back
showing original label
PERFORATED CASE: The
case is made of cartridge brass in the classic ship board style. The flange has three holes proving for a bulkhead mounting.
The bottom has an unusual perforated section which allows the sound to escape and resonate loud and clear. The outside
diameter is 7" and its depth is 4". The following photos are from a sister clock.
 

| | |
| --- | --- |
|    No. 7 Movement with Large Bell | |
DIMENSIONS:
5″  Diameter of Dial (measures 6″)               
4″ Deep
7″ Full Diameter                                               
Weight 4 lbs



CONDITION: This clock comes from a collector who
has seen that it had good care. The movement  shows as clean. It keeps excellent time and strikes the
bells in proper sequence. The clock has served at sea, and the case has some minor dents that show this use. It has been recently
polished, is in exceptional condition, and should give years of lasting service. 

WARRANTY: We guarantee that this clock will be working on arrival
and that our description is entirely accurate or your money back. The only conditions are that an email authorization be obtained
within three days, and that the instrument is returned in its original condition and packaging, and insured for its full value.
Unfortunately, shipping charges are not included in this offer and are non-refundable unless we are at fault. This does not
affect our policy on shipping damage which is discussed below.

PACKAGING: We take great care in packaging our clocks
for shipment which includes bubble wrap, placing in a box, and then placing in a larger box surrounded by impact absorbent
material. However, we are not responsible, once it is turned over to the carrier. Full Value insurance is required. In the event of damage due to shipping we will assist you in all respects even to filing a claim in your behalf.
International buyers welcome, but should
inquire first.  We have satisfied customers in Argentina, Australia, Austria, Belgium, Bermuda, British
Virgin Islands, Canada, Chile, China, Czech Republic, Democratic Republic of Congo, Denmark, Estonia, England, France,
Germany, Greece, Holland, Hong Kong, Hungary, Iceland, Indonesia, Ireland, Israel, Italy, Japan, Kuwait, Latvia, Luxembourg,
Malaysia, Martinique, Mexico, New Zealand, Nigeria, Norway, Nova Scotia, Panama, Poland, Portugal, Puerto Rico, Romania,
Saudi Arabia, Scotland, Singapore, Spain, Sweden, Switzerland, Thailand, Turkey, United Arab Emirates, USVI and the Eastern
Caribbean.
ACCEPTED FORMS OF PAYMENT are Bank wire transfer, cashier's check, money order, or personal
check in which case the item will be held until cleared. No credit cards or PayPal accepted on big ticket items.
Buy this magnificent Merrimac
clock, complete with custom base. It has a majestic and classic vintage appearance makes it a perfect
addition for your desk, mantle or collection. 
  Copyright 2010 Land And Sea Collection ™, All rights reserved