AUTHENTIC BUILDER'S CONCEPT MODEL OFFSHORE RACER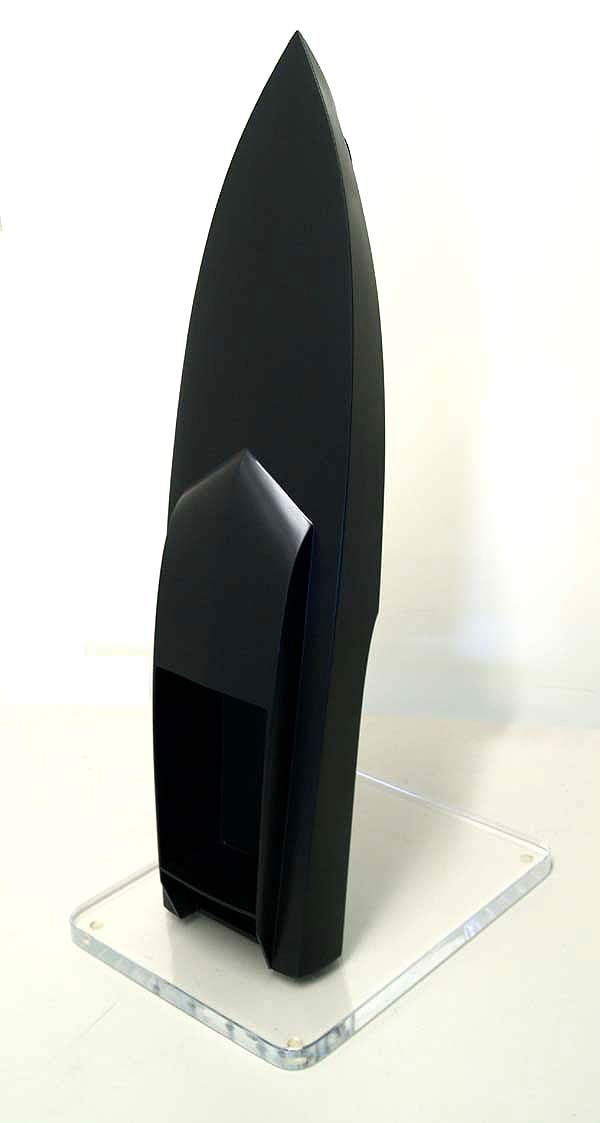 Presented is an original hull of
the builder's concept model designed by Daniel J. McCarthy of a custom offshore racer that was intended to compete in the
outboard class of various organizations sponsoring offshore powerboat racing. To the best of our knowledge the actual race
boat was never built. This model was sold by the heir to the estate, and was mounted by us on a Plexiglas base as a work of
artistic design.
This type of industrial and design art is very rare and are very expensive
to build. This one is mounted as a sculpture which shows her racing features and beauty to advantage. Her free flowing hull
has a straight shearline, flared bow and canted transom with racy low deck house that also serves as a windshield. The trench
at her stern is meant to handle three or four outboard engines. Her bottom has a deep "step" and a series of lifting strakes
which allows the vessel to raise up out of the water, reducing drag and increasing speed. Due to lack of sponsorship, the
vessel was never built. As a sculpture, it is a magnificent work of design, and craftsmanship.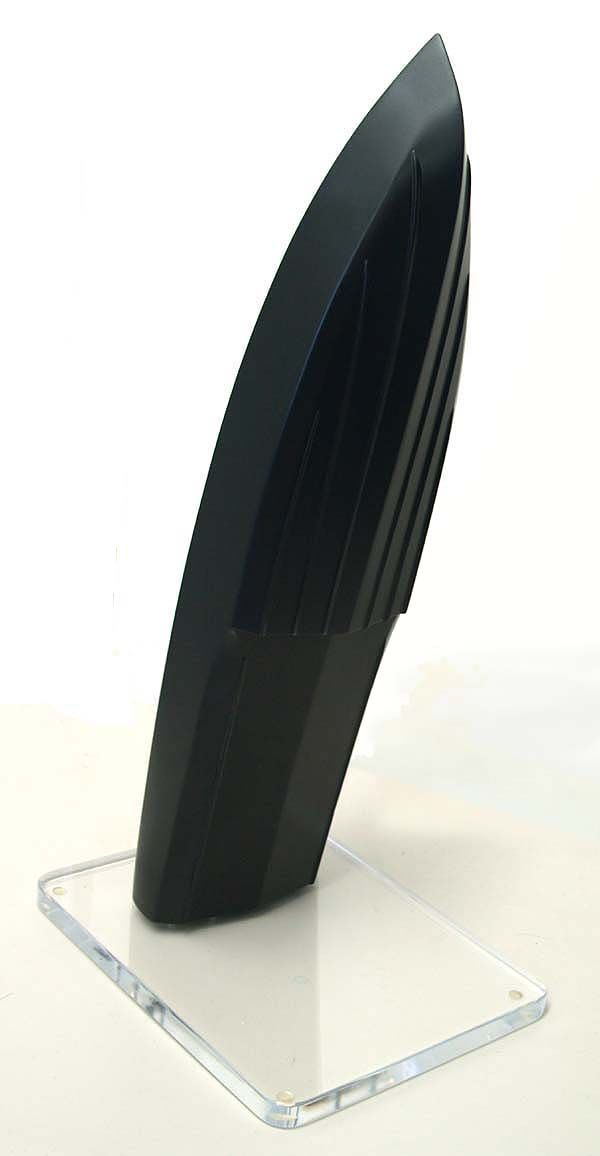 PROVENANCE:
Daniel J.W.
McCarthy
had a long career as a draftsman, naval architect and designer of all types of vessels, including those for the U.S. Navy
and the famous Garlington sports fisherman's. His career started in 1954 and ended with his death in 2003.
This
model was designed by him when he was president of Marine Design Associates, West Palm Beach, FL around 1975. It's scale is
approximately 1 inch equals one foot.
CONDITION: In near new,
restored condition, but with some minor dents, and shallow scratches none of which are a distraction.

MODEL'S DIMENSIONS:
Overall 32″ H x 8″ W x 5″ Depth at step
Base 12″ W x 15″ L x 1″ T
WEIGHT 12 pounds

OFFSHORE POWERBOAT RACING: Offshore
powerboat racing is racing by large, ocean-going powerboats, typically point-to-point racing. The extreme expense of
the boats and the fuel required to participate make it an expensive and elite sport.=left>



From the 34-foot, 20 HP wooden mono hulls
of the 1950's that averaged speeds of 20mph, to the modern-day, 42-foot, twin-engined, 900 HP carbon Kevlar composite
catamarans capable of exceeding speeds of 160 MPH, powerboat racing remains the ultimate pursuit of man-in-machine against
the sea.

The early long distance offshore powerboat races, such as the fabled Miami-Nassau, Cowes-Torquay-Cowes Classic,
and Viareggio-Bastia-Viareggio, initially brought the sport of offshore powerboat racing to the public's attention,
but today these classic competitions have been superseded by Grand Prix race courses of 100 nautical miles run over 18 laps.

The
Americans dominated the sport in the 1950's, but were challenged in the 1960's through to the 1980's by
the Europeans with the emergence of racers from the Middle East and Norway in the 1990s. Class 1 was officially sanctioned
in 1964 by the Union Internationale Motonautique (U.I.M.), the world governing body for waterborne motorsport, and the Sam
Griffith Trophy is still the prize that all modern racers covet.

Class 1 has come a long way technologically since first being sanctioned by the U.I.M.
in 1964. Shortly after its advent, Americans Jim Wynne, Dick Bertram and Don Aronow led the battle for technological supremacy,
with Daytona, Mercruiser, and AeroMarine power plants reigning supreme. But in the 1980's, the pendulum swung to witness
a period of European design dominance. Don Shead's Aluminum monohulls, Italian manufacturers Picchiotti and CUV, and
the James Beard-Clive Curtis Cougar catamarans set the pace. Fabio Buzzi took a giant step forward with the introduction of
glass-reinforced polymer hulls, turbo-charged engines, and integral surface drives and the 90s subsequently saw the emergence
of the Michael Peter's design and Tencara and Victory hulls dominate, with Sterling, Lamborghini, Seatek and more recently,
Mercury sharing the power battle. Today, state-of-the-art boat design and leading-edge technology are pushing the barriers
and extending the boundaries of the modern-day racers in their relentless pursuit of competitive excellence. The sport is
moving more to a circuit racing style, which makes for a better TV & spectator experience, though there are still old
fashioned endurance offshore racing classes.

In Europe, Middle East & Asia offshore powerboat racing is led by the Union Internaionale
Motonautique. The international circuit races round the world and is the offshore powerboat racing equivalent Formula 1 car
racing are regulated by the Class-1 World Powerboat Championship.In the USA, offshore powerboat racing is split between
the Super Boat International / American Powerboat Association / Power Boat Association / UIM races and the Offshore Super
Series Powerboat Racing.


In addition, the Historic Race Boat Association is an organization devoted to the
sport of keeping vintage offshore racing boats in competition. There leadership includes, Michael Aronow – Eldest son of Don
Aronow, boat builder, Allan Brown – Racer, boat builder,John Crouse Journalist, Barry Cohen – Racer, boat builder, Bob Saccenti
– Racer, boat builder, Richie Powers – Racer, boat builder, Pepe Nunez – Racer, boat builder, Mark McManus – Racer, boat builder,Bill
Frenz – Racer, promoter, Steve Berk – Racer, Ed Cozzi – Racer, marine surveyor, Stan Fitts – former APBA Offshore Vice President.Although there are team sponsors, the sport is still an amateur sport financed by a mixture of private funding and
commercial sponsors.