BUILDER'S PRESENTATION
HALF MODEL OF A
MOTOR SHIP Ca 1890
=center>








DIMENSIONS:

The ship model 36 1/4″ L x 4″ W x 4″ Depth
The backboard
43 1/4″ L x 10″ H x 1 1/4″ T

 




Hull: 36 1/4″ L x 4″ D x 4″ W


Weight: 15 lbs

Presented
is a larger than usual American made builder's half hull of an early motor vessel. It is comprised of 7 lifts. A "lift" is
one plank. It has a cruiser bow with a hollowed forefoot and fantail stern. There is a prominent shaft tunnel below the
counter at mid point of the keel. The backboard is a thick 1 1/4″ plank of Mahogany that is 43 1/4″ long, and is finished
in varnish.
Interesting back side with two
metal straps and two metal plates. Holes
in hull.

The board has been cut in the silhouette
of the model which is the first time we have seen this treatment. The model is recessed in the cutout and held in position
by two bronze straps on the back. There are two bronze pads with no obvious use and two hangers. The drilled holes indicate
that the hull was likely screwed to the board before the silhouette was removed.

Half
Model looking up from the botttom, seven lifts are seen

There are 57 stations
drawn on the back of which 31 are 5/8″ apart and 26 are 1/2″ apart. Their average separation is .5625.

This half hull was never
intended to come apart and be used to loft the lines of a ship, but was used by the builder either as a record of their work
or given as a gift to the owner. If the vessel was used in commercial service as this one likely was, it may have been used
for promotion. The name of the ship
it represents is unfortunately unknown, but the shape of the hull is clearly around the turn
of the 20th Century, say Ca 1890.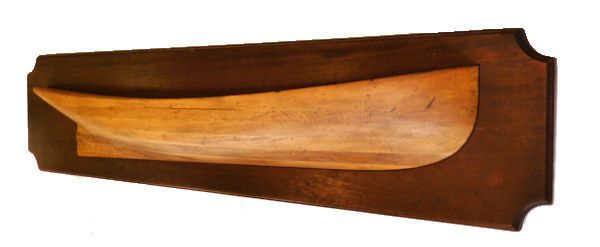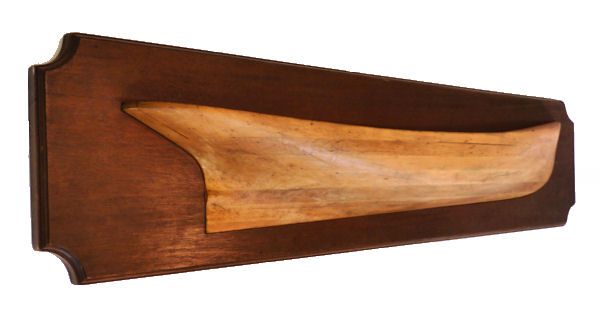 Half
Model showing bow and stern views
 

PROVENANCE: Bought at auction
from a California seller who said it came from a San Francisco Bay area. estate There is no maker's mark or vessel name.
Looking
down at the deck

="27968″>

="27964″>