DIMENSIONS:
The ship model is 63″ L x 6 3/8" W x 7 1/4″
Depth measured from well deck to keel
The backboard is
66 1/2″ L x 11 1/4″ H x 1″ D
44.5 pounds. UPS Billable weight 71 pounds
Presented
is a massive antique builder's half hull model, 63 inches wide, that was made to lay out the steel or iron plates to skin
the hull of a cargo ship. She has no identifying marks other than the individual hull plates inscribed on her side. Her name
and builder are unknown. However, the vessel's lines with her plumb bow and fantail counter stern dates the vessel as being
built around the last quarter of the 19th Century. The hull is built from what appears to be six lifts of knot free wood,
and is mounted on a heavy wood backboard, also of one piece which is 1 inch thick. Combined they weigh 40 pounds.
PLATING METHOD:The plating design is marked on the model with all the plates identified using a alpha-numeric grid
system. She was to be plated "in and out" – meaning the alternate strake plates were applied to the frames, leaving bands
of plating (see right). These were the "in strakes". The gap was then covered by the "out strakes" – another band of
plates that overlapped the "ins" on the edges: These were then riveted (this is around 1900 and – welding didn't appear until
the acetylene torch became available during
WW II.
PLATING SEQUENCE: Not counting the extra long
stern section there are 123 scribed stations along the keel 1/2 inch apart, and 11 ceilings from "A" through"K". Many plates
are marked "in/"out". There are other notations meaningful to the naval architect and plating foreman.
CONDITION: The half hull shows the hand work of carefully inked vertical
and horizontal lines along the entire hull. There is a "old" chip of wood missing at the forecastle. There are a couple of
very small chips of wood missing at deck level which show as "old" and a piece missing from the backboard at the point of
a split which runs half its length. The split has been braced using metal straps in three places and is stationary. Elsewhere,
on the hull there are some minor abrasions which blend into its look of age. There is paint missing at the bow.
<
The exterior of the hull has inked lines, over a Grey undercoat. It has an appealing
warm old patina. The deck is painted black as is the backboard. The bottom of the hull is a rose color which is common on
British made models at the "Turn of the 19th Century". The backboard has two brass mounting brackets.
this rare and unique plating half hull model now! What a great gift for a person who has everything! What a great conversation
piece. What an interesting addition to your office, den or board room.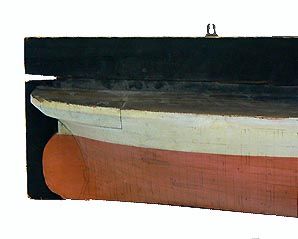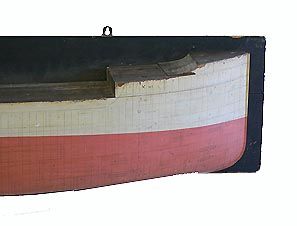 Stern section                                              Bow section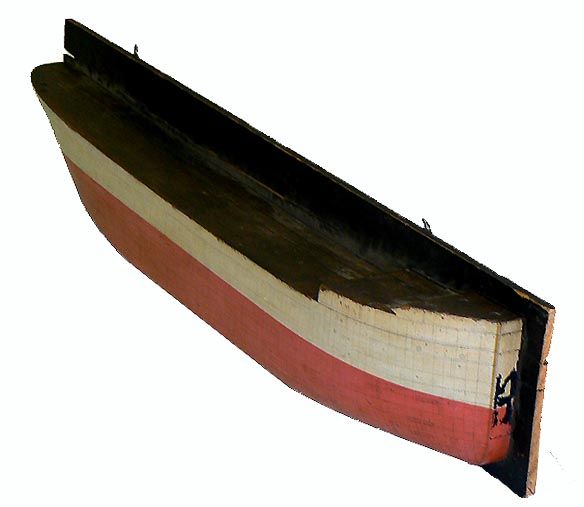 Looking from the bow aft