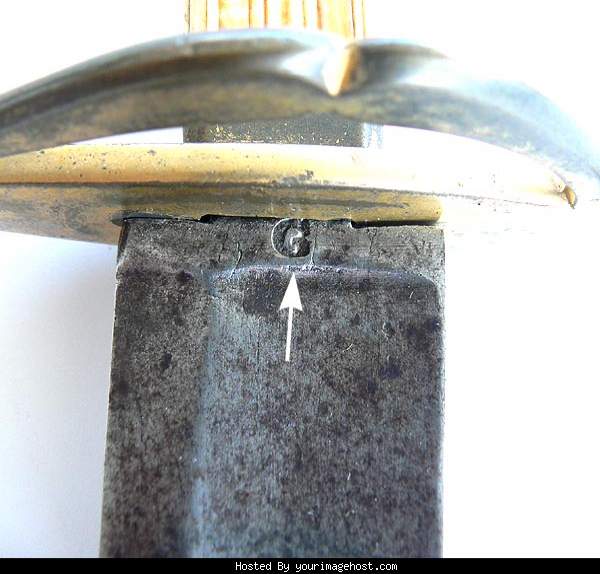 Presented is a very rare example of a Pillow Pommel style hanger that found favor with Naval
and military officers in England, France and America before regulation military swords became prevalent. The curved,
very wide and large fuller blade has a single edge. It is without embellishments except for the prominent
letter "G" on the ricasso which is the known mark of Thomas Gill. The Gill family were important Birmingham sword makers
from the time of the American Revolution until the 1820's. They had a factory on Masshouse Lane which has survived to the
present.
The gilt washed hilt has a scalloped knuckle and side guard. The pillow tang stands proud
and is secured by a round nut. The grip is reeded wood on the reverse and cattle bone on the obverse. It was
professionally done and works well. All the sword's fittings are tight.
Jan Piet Puype, former chief curator of the Dutch Army Museum and recognized
authority on this topic has this to say about the hilt. "I can imagine that those who assembled the Gill hanger in the U.S.
carefully sawed the ivory grip in two halves and use each half on a sword."
  

Grooved ivory grip obverse

   

Grooved wood grip reverse
The original black leather scabbard has two gilt mounts, the upper with a frog
button, two with suspension rings, and a gilt end cap at the tip. As is common, it has shrunk over the years and is approximately
1 inch short. There is about 50 percent of the gold wash on the two mounts and none on the tip. The leather is mostly
in good condition considering its age. Stitching is missing between the upper and middle band, but all tight on the remaining
length. There is some flaking, checking and two horizontal splits where the mounts cut through the leather.
However, with the saber in the scabbard the break is mostly hidden and it has all its parts, but care must be used in its
handling.

            Upper
scabbard band, ring and frog button 
| | |
| --- | --- |
| Middle scabbard band and suspension ring | |
OVERALL CONDITION: Except for the joined grip, the hilt is in excellent condition with 50 percent of its gold wash present,
and everything is tight. The blade shows the usual look of age with light to darkest grey mottling, but very little pitting.
The edge has one nick at the center, and a series of very tiny nicks elsewhere. The leather scabbard has shrunk, has all its
hardware, and is described above.
DIMENSIONS:
LOA   32″   1 1/4″ W   1/4″ T
Hilt 5 1/8″ x 1″ W x 11/16″ T       Blade  26 7/8"
Fuller 23 3/4″ L x 7/8″ W
Weight 1 lb 7 oz
PROVENANCE: This type of weapon, which was preferred
by Naval Officers, is well documented in various sword collecting books such as Bill Glikerson's, "Boarder's
Away" on page 120-121, who discusses a similar sword known to be Commodore Preble's fighting sword (1797-1805).
A comparison of the two is shown below:
 This sword shown above Commodore Preble's. See "Boarder's
Away". Scale Slightly different
Other recommended books are Peter Tuite's, "U.S. Naval Officer's: Their
Swords & Dirks". More recently published, in limited edition, is Comfort's "Naval Swords & Dirks"
a two volume set of which we are a U.S. distributor. Click here https://landandseacollection.com/id541.html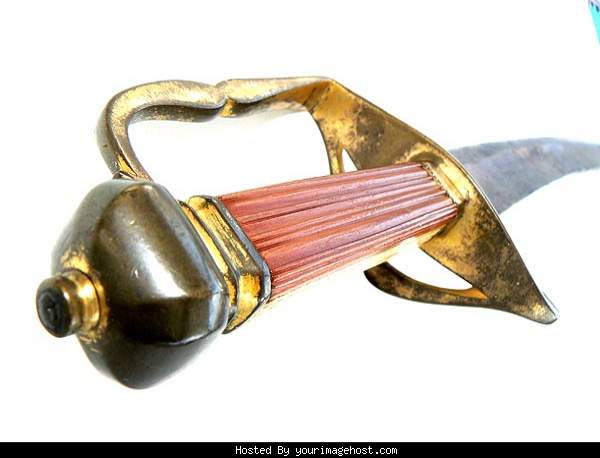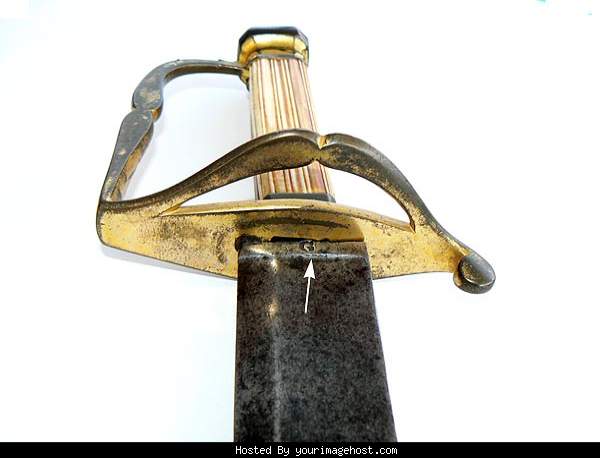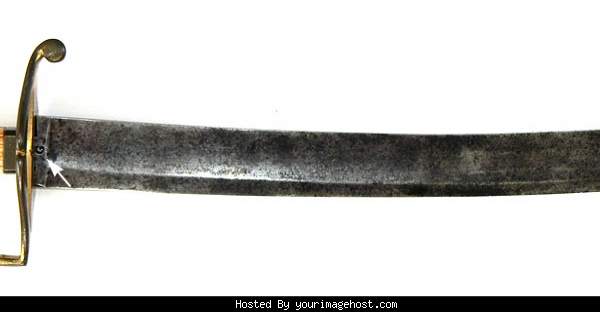 This is a are example
of an early British hanger which is Worthy of a serious collector who is looking for something special
Obverse side of blade showing wood grip and long, wide fuller
OUR UNCONDITIONAL NO NONSENSE GUARANTEE:
If not completely satisfied with your purchase it may be returned, if without damage, within five days of receipt in
its original packaging. Return items must be insured for their full value. Only a prior email authorization by us for the
return is required. Shipping charges are  included in this offer if the error is due to our fault.

International
buyers welcome, but must inquire first. You are responsible for knowing the your country's
laws. We have satisfied customers in Argentina, Australia, Austria, Belgium, Bermuda, British Virgin Islands,
Canada, Chile, China, Czech Republic, Democratic Republic of Congo, Denmark, Estonia, England, France, Germany,
Greece, Holland, Hong Kong, Hungary, Iceland, Ireland, Israel, Italy, Japan, Kuwait, Latvia, Martinique, Mexico,
New Zealand, Norway, Nova Scotia, Panama, Poland, Portugal, Puerto Rico, Romania, Saudi Arabia, Scotland, Singapore,
Spain, Sweden, Switzerland, Thailand, Turkey, United Arab Emirates, USVI and the Eastern Caribbean.

ACCEPTED FORMS OF PAYMENT are Bank wire transfer, cashier's check, money order, or personal
check in which case the item will be held until cleared. No credit cards or PayPal accepted on big ticket items.

Photo Commodore
Preble's sword courtesy William Glikerson, copyright 1991 by Andrew Mowbray. All Rights reserved

Copyright 2009 by Land And Sea Collection™,
All Rights Reserved