ANTIQUE SPIKE TOMAHAWK BATTLE AXE
Underhill
Edge Tool Co. Ca 1820 – 60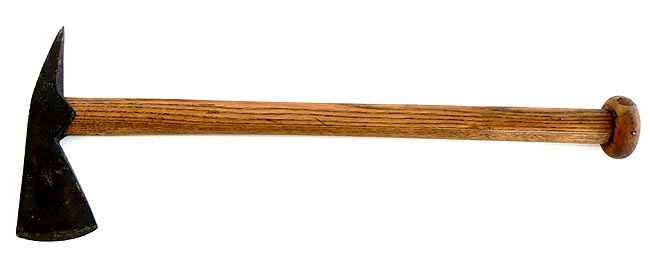 Presented is an authentic 19th Spike
Tomahawk made by Underhill Edge Tool Company of Nashua, NH. It is of the classic Tomahawk design used by most navies with
minor variations, all of which, included a spike. The metal heads were originally based on a Royal Navy ballistic and used as a trade-item with Native Americans for food and other provisions. This
one is very similar to the one on exhibit at the Smithsonian. The Navy versions had one or more teeth
at the bottom edge.

The tomahawk Axe, in addition to general
purpose, could be used for close in combat as far back as can be remembered. Some axes were known by many names such as battle
Axe, pole Axe and sometimes hatchet in the ship's arms or ordinance lists.
Tomahawk axes – together with edged weapons
for close-quarters fighting -became obsolete in late Victorian and early 20th century naval warfare when advancements in the
development of firearms meant that combat between vessels took place at distances of hundreds of feet or more, rather than
hand to hand combat. However, thanks to the axe's multi-purpose cutting, smashing and levering functions, it has continues
in use as the fire Axe on shipboard and ashore today.
Similar Smithsonian example

R.A. Salaman, on page 49 of his book, "Dictionary of Tools, used in the woodworking and allied trades, Ca.1700
1970″, says; ''The Axe was carried by boarders and used to damage the enemy's ship, cut up his rigging,
hack through a spar and smash through a bulkhead. It was a weapon of destruction, but, of course, still basically an Axe with
a spike at the back. It was also useful in emergencies for cutting away ropes or spars which threatened to endanger the ship".
| | |
| --- | --- |
| Imprint: UNDERHILL Edge Tool Co. on two lines | |
DIMENSIONS: Face Edge 2 7/8″ Vertical x 3 1/2″ wide. Spike: 2 3/4″
L

Head overall: 7 3/4″ L Handle: 20 1/4″ L x 1 1/4″
oval Weight: 1.3 lbs

MARKINGS: Obverse face on two lines, UNDERHILL Edge Tool Co.
over what may be a number "1".

CONDITION: Sharp edge on steel insert, slightly pitted black
head and strong hickory handle with ball foot. No faults.

UNDERHILL HISTORY: George W. Underhill operated in Nashua,
NH from 1840 to 1869. Some say they were in business since 1820. In 1879, Underhill acquired the Amoskeag Ax Company which
was the successor to the Blodgett Edge Tool Co. which had been in business from 1853-1862. Underhill died in 1882 and in turn,
the company became part of the American Axe & Tool Company in 1890. They were a major supplier of edged tools.