ANTIQUE U.S. NAVY
"Officer of the Deck"
SINGLE DRAW
TELESCOPE
Ca 1840 – 50

Mid 19th century telescopes
are becoming increasingly difficult to find in good original condition. 
Presented is a very fine example of an "Officer of the
Deck" U.S. Navy telescope of the mid 1800's. It is a high quality telescope and the copper tube of the draw has a rich
reddish golden patina. We estimate it is of 50 power with a field of view of 7°. The initials "VDT" stippled on to its Mahogany
barrel near the first draw and the draw is engraved in Copperplate:                            
A in box 26765
There is no maker"s mark which makes us believe it was made in one of the Navy's own factories.
In the early days, the Navy built its own ships, made its own cannon, sails and other specialized gear. In later years it
made some of its own torpedoes and airplanes.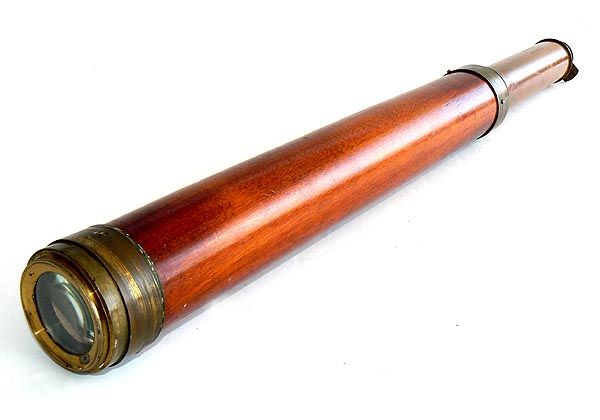 DIMENSIONS: It measures 19 1/4″ extended and is 34" extended.
The objective lens is 37mm diameter.  Weighs
1 lbs 14 oz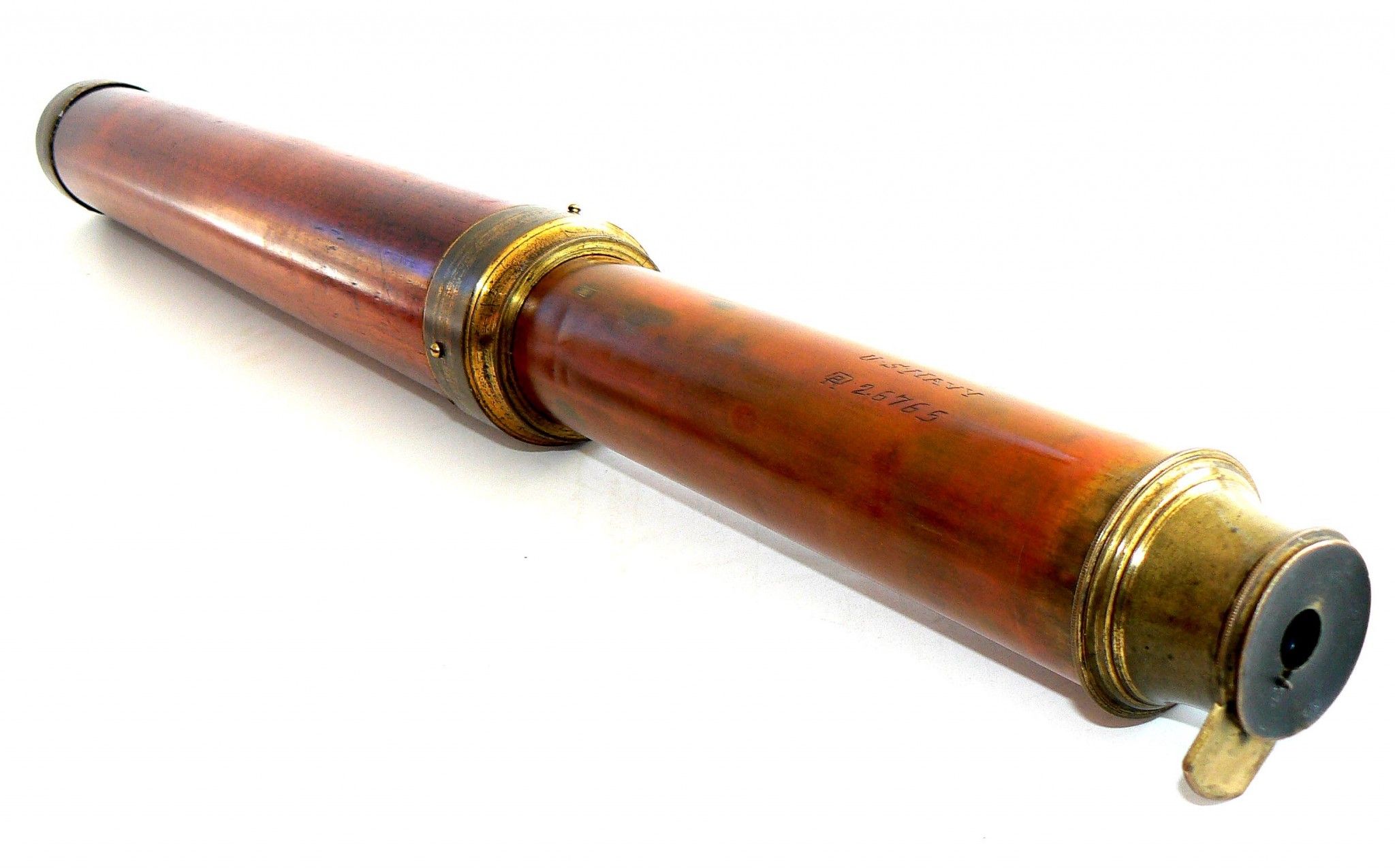 This one likely dates to around 1840 – 50 based on its design, tubular wood
construction and brass hardware. It  has survived in very good condition. 
CONDITION: The optics are
scratch free, but do have some light spotting at the edge. There is some normal scuffing on the tube from going in and out. It
is hard to judge the sharpness because the scope is of very high power and has a narrow field of view. It requires someone
quite strong to hold steady. The image seems slightly fuzzy, due to the object's movement. It is hard
to understand how it could be used from a rolling deck with any degree of steadiness. The dust cover for the objective
lens is missing. The sliding dust cover on the ocular lens is present. The four screws holding the end cap are replacements.
About 40% of the original varnish remains. The rest of the hardware has a nice patina of age.
Overall, it is a fine
example of a genuine antique U.S. Navy telescope from a bygone era which should have lasting value
 

OUR UNCONDITIONAL
NO NONSENSE GUARANTEE: If not completely satisfied with your purchase it may be returned within five
days of receipt in its original packaging if without damage. Return items must be insured for their full value. Only a prior
email authorization from us for the return is required. Shipping charges are  included in this offer if an
error is due to our fault.

International
buyers welcome, but should inquire first.  We have satisfied customers in Argentina, Australia, Austria,
Belgium, Bermuda, British Virgin Islands, Canada, Chile, China, Czech Republic, Democratic Republic of Congo, Denmark,
Estonia, England, France, Germany, Greece, Holland, Hong Kong, Hungary, Iceland, Ireland, Israel, Italy, Japan, Kuwait, Latvia,
Malaysia, Martinique, Mexico, New Zealand, Norway, Nova Scotia, Panama, Poland, Portugal, Puerto Rico, Romania,
Saudi Arabia, Scotland, Singapore, Spain, Sweden, Switzerland, Thailand, Turkey, United Arab Emirates, USVI and the Eastern
Caribbean.

Copyright 2010 – 2009 by Land And Sea Collection™,
All Rights Reserved