BRITISH NAVAL GENERAL SERVICE MEDAL
AWARDED
TO J. RADCLIFF MIDSHIPMAN
Algiers Action, 27 August 1816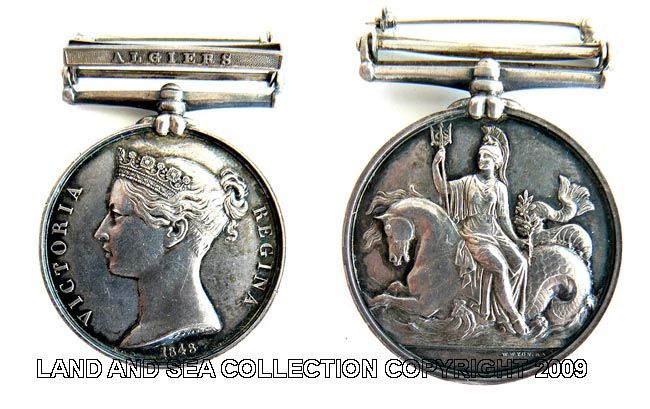 Presented

is a fine example of the
British Naval General Service Medal (NGSM) with Algiers bar that was awarded to J. Radcliff, Midshipman,
and dated 1848. Radcliff is listed on page 291 of the book, "The Naval General Service Roll 1793-1840" in
HMS ALBION, Gun Boat Barge No. 9.  The medal is missing its ribbon which was white with blue boarders. The
Naval General Service Medal was approved in 1847 for issue to officers and men of the Royal Navy retroactively. The obverse
has a portrait of Queen Victoria who was not the reigning monarch during any of this period. The reverse has the symbol of
Britannia holding a trident astride a a seahorse with a fish tail.

It was awarded for service in various naval actions from 1793 to 1840, many years
after the event. This period included the French Revolutionary Wars, the Napoleonic Wars and the American English
War of 1812. Each of the 231 actions were represented by a clasp which in this case is for the Bombardment of Algiers on August
27, 1816.
| | |
| --- | --- |
|         ALGIERS CLASP ISSUED IN 1848 FOR SERVICE IN 1816 | |
The medal covered a variety of types of actions, from ship to ship skirmishes all the way
to major fleet battles. The medal was never issued without a clasp.

It was only awarded to surviving veterans who were alive in 1847 and had applied.
Because of poor communication and lack of reading ability most of those eligible failed to apply. Consequently, only 20,933
medals were issued, most with a single clasp. This is far less then the number of men who served in the action and
accounts for the limited supply.

The final date for submitting applications was May 1, 1851. None were awarded posthumously
unless applied for before death. This medal and the Army equivalent were the first British campaign medals.

SPECIFICATIONS: Silver disk 36mm in diameter with clasp and white
ribbon with blue edges 32mm in length.

CONDITION: Super fine with a nice patina of age.

ALGIERS CAMPAIGN: The Bombardment of Algiers (August 27, 1816) was an attempt by Britain to end the slavery practices
of the Dey of Algiers. An Anglo-Dutch fleet under the command of Admiral Lord Exmouth bombarded ships and the harbour defenses
of Algiers.

Although there was a continuing campaign by various European and the American navies to
suppress the piracy against Europeans by the North African Barbary states, the specific aim of this expedition was to free
Christian slaves and to stop the practice of enslaving Europeans. To this end, it was partially successful as the Dey of Algiers
freed around 3,000 slaves following the bombardment and signed a treaty against slavery of Europeans. However, the cessation
of slavery did not last long.

For the ships involved click http://en.wikipedia.org/wiki/Bombardment_of_Algiers_order_of_battle  From Wikipedia, the free encyclopedia