SAILOR MADE BLOCK MODEL OF AMERICAN BARK SAILING SHIP
Ca 1860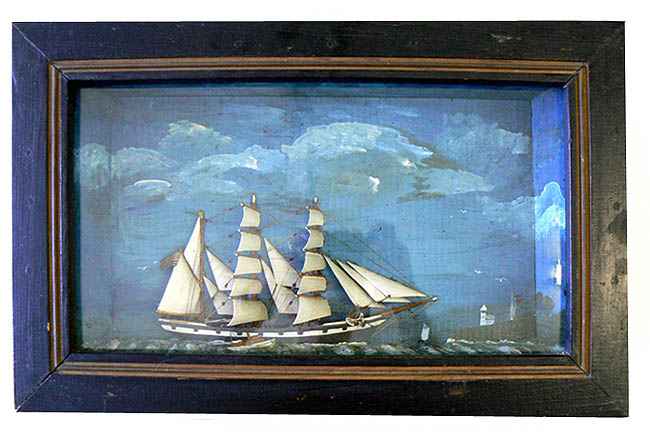 Presented is a carefully crafted sailor
made smaller size diorama of an American Bark (barque). It was crafted by M.H. Edwards in Vineyard Haven, Mass who skillfully
created an exceptionally realistic full rigged ship and scene. The model is cased in a glazed wood shadow box protected by
its original hand blown glass. Hand blown glass's use ended at the end of the 19th Century which give a good idea of the date
of this model. Made as a spare time occupation of sailors at sea, block waterline models of this type vary in their exactness
to the ship's design since plans were not available and with the skill of the craftsman. However, the sailors were exacting
in the placement of the vessel's sails and rigging. This is a fine one and in remarkably good condition with everything in
place.
Note: We take pride in providing sharp detailed pictures
when possible. However, shooting through antique glass which is wavy accounts for the blurriness and distortion which occurs.


| | |
| --- | --- |
| View looking aft from off the bow | Looking forward from the quarter |

Hand painted lighthouse and pole with storm
flags hoisted

This three masted bark rigged waterline model with black hull, painted gun ports,
and white trim is sailing on a simulated sea with a painted small village, with lighthouse in the foreground to port, and
a small tugboat amidships on her starboard side. She fly's the American ensign from her mizzen's gaff. The blue, Grey sky
and clouds are painted on the seascape background. The carved wood sails are a rare treatment, and are nicely formed and set
with proper running rigging.

| | |
| --- | --- |
| Spit of land with lighthouse | |

DIMENSIONS:

Case 19″ L x 12 1/4″ H x 2 7/8″ D

Viewing area 15″ L x 8 1/4″ H

Weight 5 pounds