Presented is a very rare example of a Silver hilt, eagle
head saber with massive solid clear ivory block grip. The ivory is embellished on one side only on a single
panel with slanted reeding. The sword has a sturdy stirrup guard and its original scabbard. The pommel is fitted with
a Philadelphia style eagle in sharp detail with the tang coming through a diamond on the top of the head. The distinctive head is hollow
as it should be for swords of this type and period. The eagle head was made in two halves and hand formed. Consequently,
the material is rather thin, but has stood the test of time with only a couple of minor flaws around the neck ring.


The joint may be seen at the top of the head in the photo in the gallery below.

The
scabbard is original and in excellent condition considering its age. It has a frog stud shaped like a shield. The mounts are
embellished on the obverse with a simple design, and plain on the reverse. They are missing their carrying rings. This type sword is thoroughly discussed in Chapter IV, Domestic Production of American Eagle Pommel Swords,
1793-1830 in The "American Eagle-Pommel Sword" by E. Andrew Mowbray
THE EAGLE HEAD: Harold E. Peterson in his "The American Sword,
1775-1945" says this about eagle heads on page 319. "Among swords with these (eagle) pommels it is easy to recognize two principal
schools of influence, one in the Philadelphia area and the other in Baltimore. The Philadelphia eagle heads are long and narrow
with decidedly rakish lines. They are usually made in two pieces, and may or may not have a crest of feathers at the top of
the eagle head. Baltimore eagle heads are shorter more compact, resembling the domestic chicken more than an eagle. Usually,
the guard is cut with some slight piercing from flat silver stock."

 

Distinctive fierce eagle head with feather crest

 

      Reverse view of Philadelphia
style head
    Thickness of silver can be seen around
neck

         Small
piece of silver neck ring missing
COMPARABLE EAGLE HEADS:
This eagle bears a remarkable
resemblance to two illustrated in Peterson's, page 328-329, section 58 and 59.  58, Ca 1810 is unmarked and compares
in style, size,  and lack of decorations, but with raised edges and scrolling on the scabbard. 59, Ca 1810,
made by Philip Hart, Philadelphia, Ca 1813, has the same style eagle head, but has later variations which came in to
favor around 1810 and later. These included a blued and gilted blade and American engravings. The dimensions of both
come within 1/2 inch of matching.
This style eagle head as illustrated in Peterson's "The American
Sword 1775-1945", Pg 328
THE HILT is carved from a solid block of unblemished ivory
which has a warm patina of age. It is loose in the hilt, but secure between the simple unadorned ferule and eagle pommel.


Note the reeded carving on the obverse panel which is not repeated on the reverse.



The hilt is 5 1/2″ The ivory block grip is 3 7/8″ L x 1 1/2″ W x 3/8″ T 

 
Magnificent solid block of ivory carved on obverse with  only a few age cracks
BLADE: The moderately curved blade
is a dark grey with rust overtones on the obverse and with about 40% of its original finish on the reverse which is a
mottled polished surface with webbing. Both sides are without etching as was the norm for the early Eagle Heads. There are
no maker's marks. The blade has a large single fuller 1″ wide from slightly below the ricasso to 8″ behind the tip. The
blade is sharp for its first 15″, and the false edge is sharp for 8 inches. The first ten inches show nicks from what
may be combat.
Unadorned blade with large single fuller. Dark on obverse,
mottled on reverse
DIMENSIONS: Length in scabbard overall 36 1/4″

Length of blade 30″ Width 1 6/16 Thickness 1/4″ Length overall 35 1/2″
The hilt is 5 1/2″ The ivory block grip is 3 7/8″ L x 1 1/2″ W x 3/8″ T
Weight Saber 1 lb 12 oz Weight in scabbard 2 lb 5 oz
THE SCABBARD: The black leather scabbard is in very good
condition considering its age and use, but has shrunk about 3/4 inch. The silver throat covers this for display. The
scabbard is complete with its silver mountings, including the tip all of which are engraved on the obverse side only.
Both the two carrying rings are missing. The leather body shows cracking and crazing overall, but the stitching
is all present and tight. There is a small " section on the top right behind the tip which has been cut through.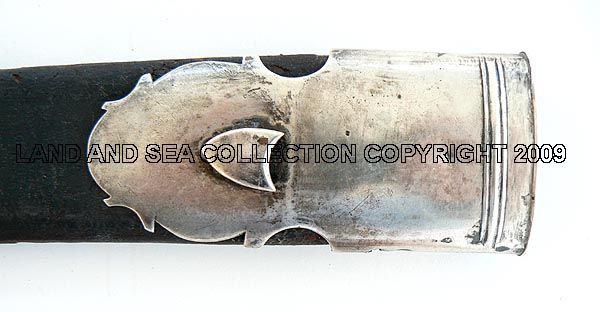 OVERALL
CONDITION:=left>
The grip is slightly loose. There is one small piece of silver missing
where the guard joins the eagle head. The scabbard has shrunk 3/4″, but the throat can cover this. It has the
normal cracking to be expected, but all its stitching is present and tight. There is a cut on top just behind the scabbard
tip. Both suspension rings are missing. There are small nicks on the forward edge of the blade.
REFERENCES:
The American Eagle-Pommel Sword by E. Andrew
Mowbray
The American Sword, 1775-1945, by Harold E. Peterson
Swords & Blades of the American Revolution by George
C. Neumann

FLAT RATE INSURED SHIPPING to 48 contiguous States $35.00

OUR UNCONDITIONAL NO NONSENSE GUARANTEE: If not completely
satisfied with your purchase it may be returned within five days of receipt in its original packaging if without damage.
Return items must be insured for their full value. Only a prior email authorization from us for the return is required. Shipping
charges are  included in this offer if an error is due to our fault.
International
buyers welcome, but must inquire first.  You are responsible for knowing the import laws of your
country. We have satisfied customers in Argentina, Australia, Austria, Belgium, Bermuda, British Virgin Islands,
Canada, Chile, China, Czech Republic, Democratic Republic of Congo, Denmark, Estonia, England, France, Germany, Greece,
Holland, Hong Kong, Hungary, Iceland, Ireland, Israel, Italy, Japan, Kuwait, Latvia, Malaysia, Martinique, Mexico, New
Zealand, Norway, Nova Scotia, Panama, Poland, Portugal, Puerto Rico, Romania, Saudi Arabia, Scotland, Singapore, Spain,
Sweden, Switzerland, Thailand, Turkey, United Arab Emirates, USVI and the Eastern Caribbean.
ACCEPTED FORMS OF PAYMENT are Bank wire
transfer, cashier's check, money order, or personal check in which case the item will be held until cleared. No credit cards
or PayPal accepted on this item.=left>
Copyright
2009 by Land And Sea Collection™, All Rights Reserved