IMPORTANTE. & G. W. BLUNT
BOXED DRY CARD COMPASS!


Special Gimbal Center Pivot You will not have seen anything with a gimbaled center pivot and
in perfect condition from a early pedigreed American maker Presented is an early 19th Century large boxed
compass by E & G. W. Blunt that is similar to one on display at the Smithsonian Museum by the same maker. However, the
absence of degrees suggests it is from the first quarter of the 19th Century, and makes it many years earlier than the Smithsonian's.
It also has a very special jeweled bearing which is housed in a central set of gimbals. This compass is the only one we've
ever seen with this special feature. The spun brass bowl with original varnish has a simple hand lettered dry card all hung
from proper outside gimbals. It is housed in an simple Spruce box with handcrafted tongue and groove construction. It is in
superb original condition. See Smithsonian: Because of its unusual
pivot, we consider this a very rare example of an early American boxed dry card compass. It is truly of "museum quality" a
term that we do not use lightly.


Top view of rare gimbaled center jeweled pivot THE BOX is simply made and uses tongue and groove
construction. The wood may be Spruce and is knot free. There are some missing pieces of wood and some age cracks, but nothing
that lessens the integrity of the box. Two nuts hold the outer gimbals. There is a wood cover with a knob to help slide it
in and out.

The dry mariner's compass was invented in Europe around 1300, and consists of three elements:
A freely pivoting needle on a pin enclosed in a box with glass cover and a compass (directional) rose or card. The compass
card is attached to a magnetized needle in such a manner that when placed on a pivot it remains near stationary, always pointing
North while the ship changes direction. Thus, as the ship's course is changed, it may be read from the compass rose indicating
what course the ship is on".A gimbal mounting allows the compass to remain near horizontal while the ship rolls and pitches,
and adds to the accuracy of the reading. BUNT COMPASS DETAILS: The bowl of the compass is spun brass with its original varnish in excellent condition. The engraved paper
dry card's "North" is identified with a very ornate Fleur des Lis. There is a black vertical line in the tube which is called
a "lubber's line" should aways be oriented to the ship's bow. On the inner circle is engraved, "E & G W. BLUNT" above
the center pivot, and "NEW YORK" below. The outer ring of the compass
card is subdivided in "points" each point being 11 1/4 degrees. The larger subdivisions are in Cardinal Points, N,S,E,W, and
quarter points, NE,SE,SW,NW, then 1/2 points, 1/8 points and finally 1/16 points. There are 32 points on the compass card
making 360 degrees in total. The glass is sealed in place by its original red lead compound. The
arrow points to the lubber's line.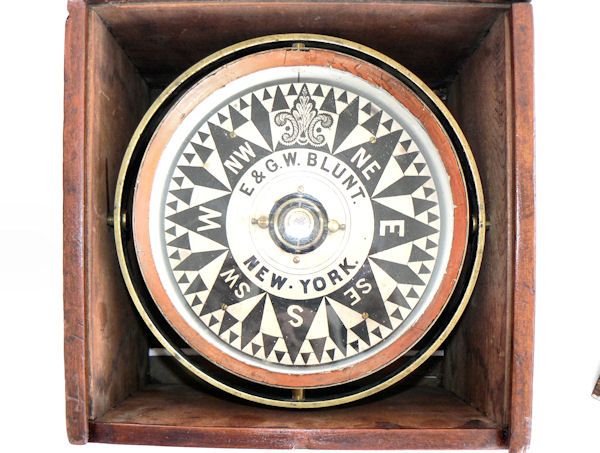 Hand painted compass card
COMPASS DIMENSIONS: Diameter of bowl 7 1/4″ Diameter of card 6 1/4″ Diameter of gimbals 8 1/2″ Depth of bowl 5 1/2″
CONDITION: This beautifully made
antique compass bowl and gimbals is of brass construction has no exceptions and is in remarkably "near new" condition throughout.
All surfaces are original the brass has a lacquered golden patina of which about 85% remains. The compass works properly.

Spun brass bowl and gimbal
HISTORY: E. & G.W. Blunt Company operations
as a seller of nautical instruments dates from 1821 in New York. They offered nautical books, charts, and instruments. The
Blunt firm was also noted for publishing a Nautical Almanac staring in 1850. The company became Blunt & Nichols in 1866,
and Blunt & Co. in 1868. This compass predates the company name change in 1866, and helps date it. On August 4, 1871,
equally renown, John Bliss & Sons, purchased the famous Blunt & Co. The combination lasted for 100 years more.This is a very rare and important boxed
compass that dates back to Ca 1820 and was made by a pedigreed American instrument maker.