FAMOUS
CLIPPER SHIP
FLYING CLOUD MODEL CARVED IN BAS RELIEF
Bas relief carving     Signed on reverse UR
     Framed 17 3/4″x 14 3/4″
 Viewing area   13 5/8″ x 10 1/4″
 Presented is a handsome bas relief, wood carving, of the famous
Clipper Ship Flying Cloud by known carver, James Keating, who was active during the 1920-1930's.
It is the epitome of American seafaring Folk Art. Keating was well known as a carver of yachts and fishing
schooners mounted on plaques, but his renderings of sailing ships are few and considered his best, and most desirable works.
Signed in pencil on the reverse is Clipper Ship "Flying Cloud" by James Keating, 133 Haven St.,
Reading, Mass. which is repeated below in block print by another hand.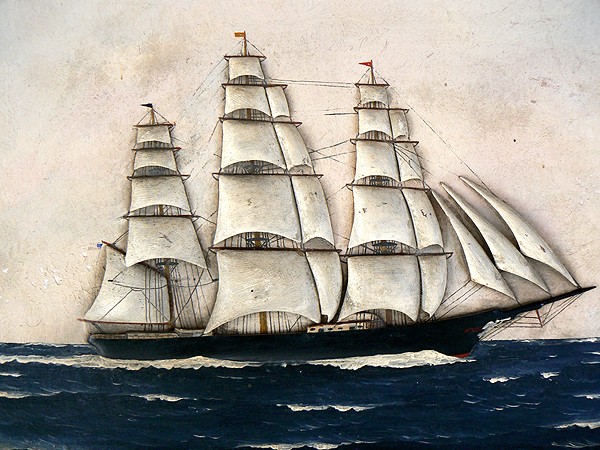 A Folk Art representation of the famous Clipper Ship FLYING CLOUD
The black hulled ship with all sails set, including studings'ls, is close hauled
on the port tack with a bone in her teeth. Her bow has a distinctive figurehead of a white winged angel
with trumpet that replicates the real ship. She is under a hazy, light blue, cloudless sky, with the realistic sea painted
dark blue with white caps. The artist has captured the majesty of Flying Cloud and his work shows an intimate
knowledge of sailing ships and the sea as she appears to be in motion. The carved wood painting has a wonderful patina of
age. There is some minor flaking aft of the leech of the mizzen and above and to the right of the flying jib which occurred
after the picture was taken. Neither are believed to be objectionable because the undercoat is the same color.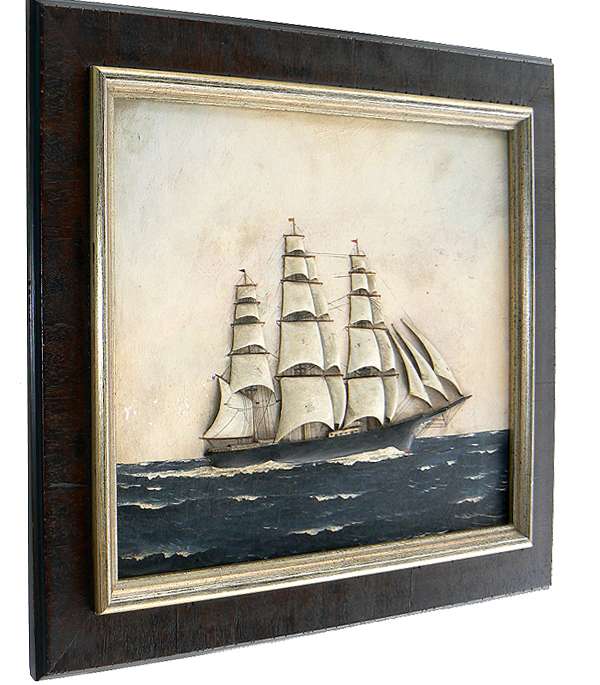 From the stern, three dimensions are apparent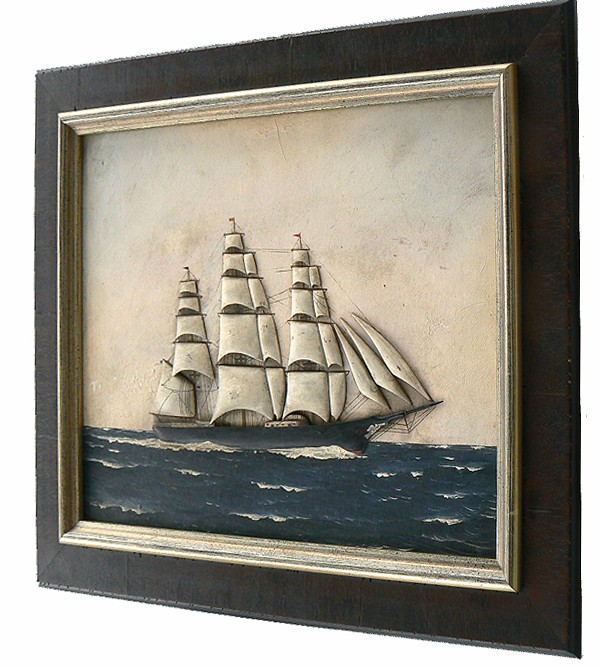 From the bow looking aft, the same
SHIP'S HISTORY:
The Flying Could was designed by famous ship builder, David McKay, and launched in 1851 in
East Boston. Her registered dimensions were 229′ LOA, 40'8″
beam and 21'6″ draft and 1,782 registered tons Flying , was the masterpiece of Donald McKay, the foremost marine architect and shipbuilder of his
time. McKay sold her to a syndicate of owners under the flag of the Grinnell-Minturn Line before she was finished, which
was comprised of  Moses H. Grinnell and Robert Minturn each holding 9/32 shares. Henry Grinnell, John E. Williams,
and Francis S. Hathaway each holding 4/32 shares, and Captain Creesy with 2/32 shares. Flying Cloud was launched
in East Boston just at the time of the California "Gold Rush", when travel and transport between East Coast ports and California
was best undertaken by ship. The> Flying Cloud acquired a reputation for sailing faster
than any other ship of her time. On one record breaking occasion under command of Captain Josiah Creesy,
she made the passage from New York to San Francisco in 88 days, 22½ hours, a feat never again achieved by a sailing vessel.
The
Flying Cloud could be seen racing into port before the wind, her acres of sail flashing
in the sun. An ordinary sailing ship would lift her bows and plunge with the seas. But not this one. As her sleek, jet-black
hull sliced through the swells, the only visible motion was the white curl at her bow and an occasional toss of spray. She
seemed to skim the waves like a gigantic black and white bird.
During her later years, she carried tea from China to
London, making the passage from Foo chow in 123 days. Like all of the fast clipper ships, her time came to a close as
steam-powered vessels took over maritime commerce. Flying Cloud met an unfortunate
end when she ran aground in 1874, could not be rescued, and was burned to salvage metalwork.