BRITISH NAVAL GENERAL SERVICE MEDAL
AWARDED TO 
THOMAS HYNE, HMS CONWAY
FIRST CHINA WAR
1842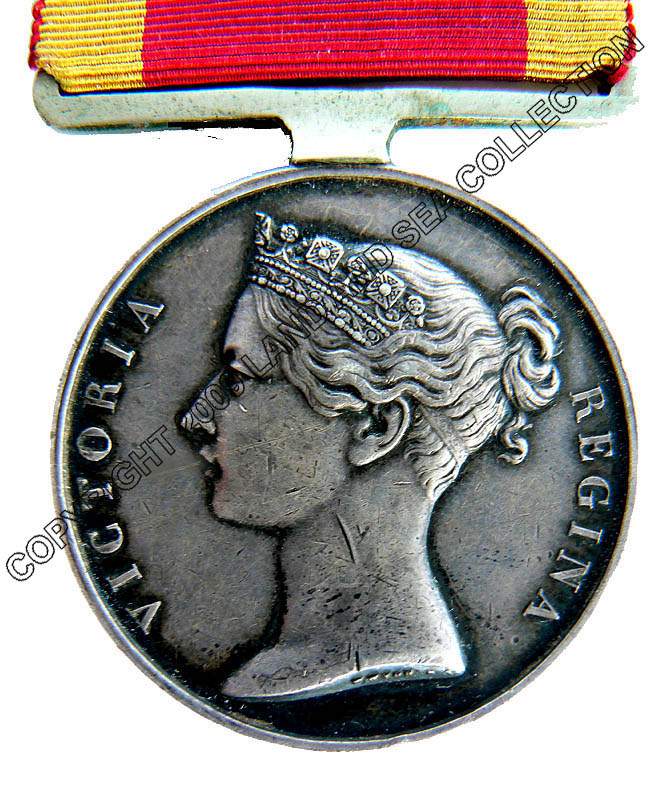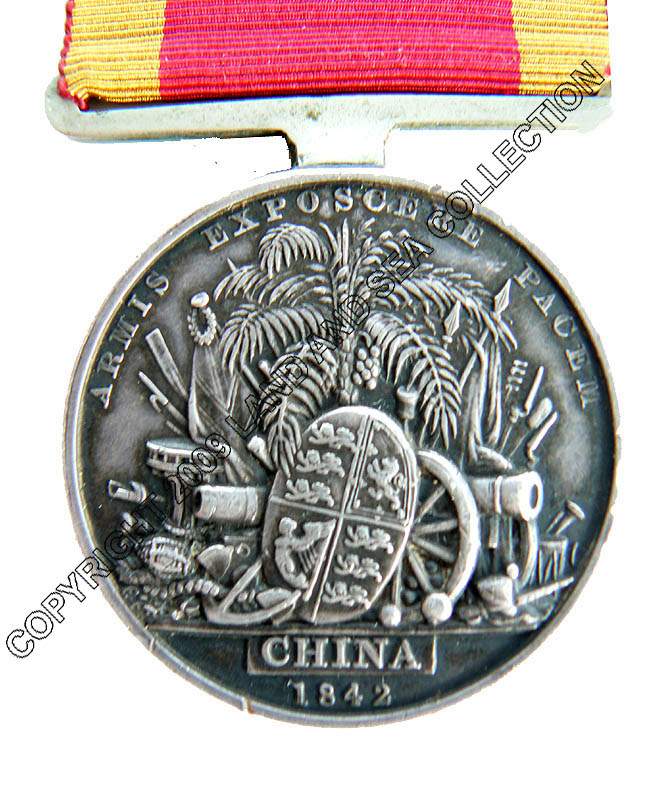 Presented

is a fine example of the British Naval
General Service CHINA WAR Medal (NGSM) that was awarded to Thomas Hyne, HMS Conway and
dated 1842.

The First China War Medal was originally intended by the Governor-General of India, in
October 1842, to be awarded exclusively to all ranks of the Honorable East India Company's Forces. However, in 1843,
under the direction of Queen Victoria, the government awarded it, without clasp, to all British forces who
have "served with distinction" in these actions:

In the Canton River, in the operations of 1841.

At Chusan, in 1841 and 1842.

At Amoy, at Ningpo, at Chinpae, at Tsekee Chapoo, in the river Woosung, in the Yangste-Kiang,
and in the assault of Cing-Kiang-Foo.'

between 5 July 1840 and 29 August 1842. This campaign became known as the 'First
Opium War', ending in the seizure of Nanking. The resultant treaty opened five ports to trade, and ceded  Hong Kong
to the British. 

HMS CONWAY & HYNE'S ENGAGEMENTS:

1840
In
this year CONWAY made the first examination of the River Yangtze as far up river as Fushan, in company
with her surveying tender HMS Algerine a 235 ton sloop. During the year Conway was involved in many engagements in
the Chinese War including a small boats action on the River Yangtze.
5
June 1840
Involved
in the capture of Tinghai Chusan.
1841

13 March: Captured the Macao Fort between Gough and Hunam Islands. This opened
the passage to Canton.

18 March: Attacked last forts on approaches to Canton.

22 May: Destroyed junks and fire rafts on approaches to Canton.

25 May: Captured last forts on approaches to Canton.

30 May: Captured Canton (see Second Ship 29 Oct 1856)

1842
Returned
from China to the UK. She departed the Pearl River (before other ships) carrying that part of the indemnity money $ 6,000,000
paid by Canton as was destined for UK. The balance of the Indemnity was carried by Calliope to Calcutta, presumably for the
Hon. East India Company.
15
Jan 1842

Paid off at Portsmouth

.

DESCRIPTION: Made of Silver, 35mm in diameter; The First China War Medal 1840 –
1842. Impressed around edge with recipient's name and ship. Obverse: The diademed head of a young Queen Victoria, and the
legend 'VICTORIA REGINA'. Reverse: A trophy of arms with an oval shield bearing the Royal Arms in the centre, positioned under
a palm tree. Around the top is the Latin inscription 'ARMIS EXPOSCERE PACEM' and in the exergue is the word 'CHINA' over the
date 1842. The medal has a fixed bar suspender that is fitted with a crimson ribbon with yellow edges.

SPECIFICATIONS: Silver disk 35 mm in diameter, no clasps authorized, red
ribbon with yellow edges 63 mm in length.

CONDITION: Very Fine with a nice patina of age. The suspender
bar pin is missing.

NAMED AND DATED 1842 ~ FIRST CHINA OPIUM WAR