Presented is an M1841 U.S. Navy cutlass that is a near perfect
example of this most desirable sea service edged weapon. Because only traces remain of the customary Ames imprints, and
none remain of the U.S. Navy blade markings, it is our conclusion that this cutlass saw heavy service at sea over an
extended period. On the obverse ricasso is imprinted P.A. over BOT which is all that remains on the N.P. Ames
over Cabotville, Mass imprint which originally marked the blade. There is no scabbard.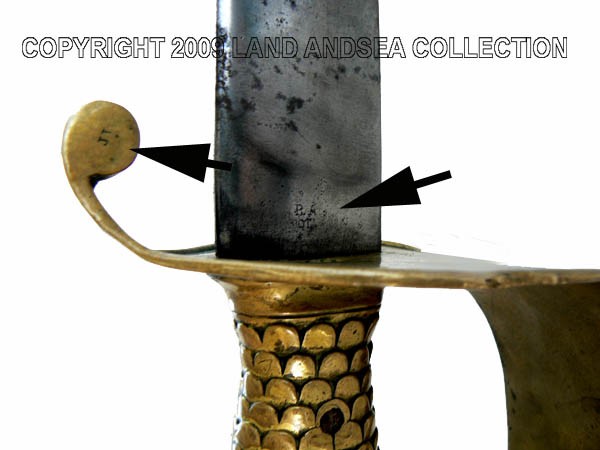 MARKINGS: It is marked on the obverse of the blade at the ricasso,
P.A. over BOT. There are no marks on the blade's reverse. On the right side of the front of the guard
is the number 69. On the left side of the guard at is edge is the letter P. The obverse
quillion is stamped JJ or JI. The reverse quillion is stamped with a C. On the back of the
crossguard is in large type imprinted 2L33. The 33 is stamped over 20.
The last number represents the rack placement.
This is a rare find, particularly because most of these cutlasses have their
guards and quillion bent and frequently have dented grips. They may not have the rack number imprint which shows it was a
shipboard weapon.
FROM THE U.S. NAVY HISTORICAL CENTER: "A radical change in design
occurred in 1841 when the Navy gave a cutlass contract to the Ames Manufacturing Company. This seagoing snickersnee was a
throwback to the short Roman broadsword. A heavy, unwieldy weapon, it had a straight, double-edged blade 21 inches long and
1 ¾ inches wide at the hilt. The guard was a broad strip of brass. The entire cutlass was 26 1/4 inches long, and it hung
in a black leather sheath. This sword went ashore with American bluejackets at Vera Cruz and Tabasco during the Mexican War.The
M1841 broadsword wore out its welcome by 1860, when the Navy adopted a new design, patterned
after the French naval cutlass."
DIMENSIONS: 26 1/2″ long overall. 20 3/4″ blade length         Hilt 5 1/4″L x 1 1/2″ W x 1 1/8″T
Max width of blade 1 5/8″   Max thickness blade 1/4″
Weight 2 lbs  5
oz
| | |
| --- | --- |
|          Sharp eagle imprint on obverse | |
| | |
| --- | --- |
|             Rack number on inside of guard | |
CONDITION: The entire assembly, guard and grip are in outstanding
original condition with only the most minor superficial marks of age over the past 169 years. The patina of the brass
is pleasing to the eye. The blade is tight and correct in the hilt. The two edged blade has
a pleasing silver/grey tone with few dark spots, and only light pitting.
There is no scabbard.
                                 Fine
relic of our seagoing heritage, the M1841, Navy Cutlass 
This
is a superior example of an M1841 Cutlass which Navy shipboard use. It will be appreciated by those who value only
the finest!
OUR UNCONDITIONAL GUARANTEE: If not completely satisfied
with your purchase it may be returned, if without damage, within three days of receipt in its original packaging. Return items
must be insured for their full value. A prior email authorization by us for the return is required. Unfortunately, shipping
charges are not included in this offer and are non-refundable unless due to our error.
International buyers
welcome, but inquire first.  You are resonsible for knowing your countries laws concerning weapons.
We have satisfied customers in Argentina, Australia, Austria, Belgium, Bermuda, British Virgin Islands, Canada, Chile, China, Czech
Republic, Democratic Republic of Congo, Denmark, Estonia, England, France, Germany, Greece, Holland, Hong Kong,
Hungary, Iceland, Ireland, Israel, Italy, Japan, Kuwait, Latvia, Martinique, Mexico, New Zealand, Norway, Nova Scotia,
Panama, Poland, Portugal, Puerto Rico, Romania, Saudi Arabia, Scotland, Singapore, Spain, Sweden, Switzerland, Thailand,
Turkey, United Arab Emirates, USVI and the Eastern Caribbean.

SHIPPING &
INSURANCE to 48 contiguous States $20.00

ACCEPTED FORMS OF PAYMENT are Bank wire transfer,
cashier's check, money order, or personal check in which case the item will be held until cleared. No credit cards or PayPal
accepted on this item.
Copyright
2010 – 2009 by Land And Sea Collection™, All Rights Reserved