VINTAGE  ELCO BRONZE HATCH
Ca
1929 – 1945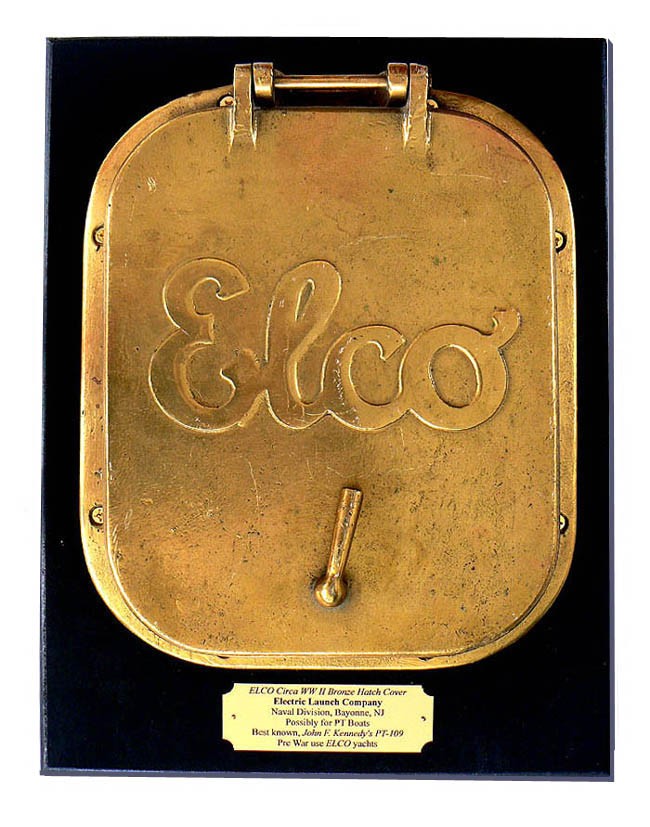 PRICE $300.00 plus shipping to 48 contiguous States $35.00

PRESENTED is an authentic ELCO bronze
hatch with frame as was used on pre-WW II yachts, and possibly on the PT boats that were built by ELCO during WW
II as we were told. We were unable to find any pictures or drawings showing this hatch fitted to a PT boat, but it may
have been used in the interior.
DIMENSIONS:
Outside including flange 12 1/4″ H x 10 1/2″ W
Inside
of coaming 9 3/4″ H x 7 3/4″ W
Backboard 16 1/2″ H x 12 1/2″ W x 1″ T
Weight 13 1/2 lbs

CONDITION: In good serviceable condition showing
some casting imperfections and scratches as would be expected. There is provision for a cork or rubber gasket on the backside
which is missing. The handle is spring loaded and the spring has lost its expansion force. 
| | |
| --- | --- |
|    ELCO name on model ABLE HAND'S hatch |      ELCO hatch on 1929 Cruisette Motorboat |

See this hatch in miniature fitted to a museum quality scratch
built model of a Ca 1930 ELCO, "ABLE HAND". https://landandseacollection.com/id623.html

                                               

    Hatch open showing coaming

ELCO IN WW I & WW II: Elco is
an acronym for the Electric Launch Company, which first made its mark at the World's Columbian Exposition of 1893 in
Chicago. 55 launches, each 36 feet long and powered by battery-powered electric motors, carried over a million passengers.


By 1900, electric powered pleasure boats outnumbered the combined number of
boats powered by steam and explosive engines (as gasoline powered motors were called). By 1910, the advantages of the range
and power of gasoline came to dominate the market and Elco converted to motor boats.

During World War I, the company built five hundred and fifty 80-foot submarine
chasers for the British Admiralty.

Between the wars, it introduced the 26-foot Cruisette, a cabin cruiser which
became successful. This was followed in the 1930's with 30-foot to 57-foot Cruisettes and Flattops. 

During World War II, ELCO formed the Elco Naval Division in Bayonne,
New Jersey. Nearly 400 ELCO PT boats were produced for the U.S. Navy . After experimentation, the first PT boat built
in any quantity was the 73-foot type. Later 77-foot and 80-foot types were built. More 80-foot ELCO boats were built
than any other type of US motor torpedo boat.

The most notable 80-foot PT boat was PT-109, commanded by future president
John F. Kennedy. In the film PT 109, the "ELCO" script logo can be seen on the cockpit throttle housing in several scenes.


At the end of the war, the company merged with its sister company, Electric
Boat, to form the nucleus of a new corporation, General Dynamics. In 1949, General Dynamics decided to focus on government
contracts for submarines at Electric Boat and military and commercial aviation sales at Convair, and the company was closed.
However, the company was reborn by new owners in 1987 in Highland, NY, as a builder of small electric launches, but
the days of the wooden yachts and warships are gone.

ELCO'S
YACHT HISTORY: ELCO, the Electric Launch Company commenced operations in 1893. It was a sister
company to the famous Electric Boat Company, builder of U.S. Navy submarines. The recreational builder, developed a series
of electric and gas propulsion boats that became the Cadillac of their day, beginning in 1893. When World War One came
along ELCO produced hundreds of motor launches for the British Navy. However, it wasn't until after that war that
the company really hit its stride building unique, high quality electric and gas launches. Thomas Edison, J. P. Morgan, John
Jacob Astor, the Grand Duke Alexander of Russia and hundreds of other notables had to have one. In 1928, a year after he flew
solo across the Atlantic, Charles Lindbergh spent a summer getting acquainted with a 38 foot ELCO cabin cruiser that
he chartered to get away from the roaring crowds. The "Lone Eagle' decided that this would be the perfect ways to find solitude
after his marriage to Anne Morrow. With the help of some very closemouthed ELCO executives, he purchased a 38
foot ELCO, changed the two rear single berths to one double berth and had the boat moored along a deserted stretch of
Long Island beach for their wedding day. 

Between the world wars, ELCO became one of the better known boat builders
of its day. Chris Craft, Gar Wood, Sheppard and many others produced beautiful boats, but none were said to compare with ELCO
yachts. During World War Two ELCO produced 399, 80 Foot, PT boats for the US Navy, including Jack Kennedy's, PT109. This
was the high point of production at ELCO because after the war the returning Gl's were more interested
in marriage, raising a family and a new home than in  boating. Thus ELCO was forced to close its doors in 1949.
It is estimated that out of 7500 yachts that were built about 400 are still in use. However, the
company was reborn by new owners in 1987 in Highland, NY, as a builder of small electric launches, but the
days of the wooden yachts are gone.