RARE U.S. NAVY CHELSEA 
ZIG ZAG CLOCK  Made 1940

 

Complete with Stand
a $50.00 Value!


 

A rarely seen example of a WW II Chelsea
ZIG
ZAG Navy course change clock

Presented is a very rare Chelsea U.S. Navy, Zig Zag Course
Clock, Serial Number 278890, in a heavy forged yellow bronze case with special downward hinged bezel, two external electrical
contacts, internal cam, and flange mount. It comes with a custom stand. Both are in original "Fine" condition.
However, the clock is running fast. The case and movement numbers match. The key with this clock is exactly
as pictured in the specifications and is deemed to be the original.

We believe, it is one of the earliest examples of a Zig Zag clock known to exist,
and based on its serial number, we estimate it's date of manufacture was May, 1940 even though Whitney's says they date
from 1941. Hand marked in white on the case's back is USS Marblehead, a WW II cruiser, (see below).

Do not confuse this early type "course change" clock with the later more complex
Sinuous Course Clock, MK 3, that provided continuously changing course headings that were curvilinear.


SPECIFICATIONS: This very early example has a 6″ silvered brass dial with stenciled Arabic numerals
and inscriptions in black. Beneath the 12 O'clock position is CHELSEA CLOCK COMPANY * BOSTON, USA and then,
beneath the hand's arbor "U.S. NAVY. There is a special lever as stated in the specifications that allows the movement
to be started and stopped. The clock features a spade style minute
and spear hour hand, and a moon style sweep seconds hand. A Fast/Slow wheel adjustment is at 3 O'clock. The
classic 8 day eleven jeweled movement is housed within the original forged bronze case that has a top
hinged bezel, unique to this type clock, measuring 7 1/4 inches in diameter. The precision, all jeweled movement
and serial number dates this clock to May, 1940. Later versions of this clock had round impressions over the hours for luminescent
paint and black dials.

References: "Military Timepieces", by Marvin E. Whitney, AWI Press; and "Chelsea
Clock The First Hundred Years," by Andrew Demeter, Chelsea, Massachusetts.

SPECIAL FEATURES:

Two electrical terminals
Interior cam to send signal to change course
Special hack lever to start and stop movement
Top hinged bezel
Bottom button to open bezel

                
3/4 side view of deep case

      Back of clock with hand written Marblehead

OPERATION: A cam is mounted on the back of the movement that sends
an electrical signal to the terminals which are wired to a bell or buzzer that is rung at a predetermined interval.
At the sound of the bell, the conning officer commands the helmsman to alter course, and maybe speed. This procedure makes
it difficult for enemy submarines to plot accurate torpedo firing solutions.

CONDITION: This example with
the Model E movement is running  fast with a constant rate of gain. It is in original "fine"
condition with a face having only two small blemishes and a few scratches. The stand on which it is mounted is new, and
not Navy specified. Usually, a Chelsea clock's case has three holes in the flange. This one has eight, equally spaced
in pairs. All appear to be made by the same drill. The wires to the terminal need to be reattached if it is to be used to
sound a bell. We have not tested this function, and there is no reason to think it doesn't work.

     Button on bottom for latch and
two terminals

     Serial Number and internal cam sending
signal

             USS
Marblehead (CL 12) shown leaving San Diego after repairs in 1942

USS MARBLEHEAD (CL12): Marblehead was an Omaha-class light cruiser
of the United States Navy. She was the third Navy ship named for the town of Marblehead, Massachusetts. She was assigned to
the Asiatic Fleet from early 1938 until early 1942. During most of that time, as tensions rose over Japan's aggression in
China, she cruised through Far Eastern waters in support of U.S. interests. After the Pacific War began in December 1941,
Marblehead operated in the Netherlands East Indies as part of a greatly outnumbered Allied naval force. On 24 January
1942 she covered the Battle of Balikpapan, in which U.S. destroyers made a daring and successful attack on Japanese invasion
shipping off Borneo. While steaming in the Java Sea on 4 February, en route to again attack the Japanese, Marblehead
was hit and near-missed by several enemy bombs. With great difficulty the severely damaged ship was able to make port at Tjilatjap,
Java, for immediate repairs, then went back to the U.S. by way of Ceylon and South Africa.

Following several months of shipyard work at New York, in the autumn of 1942 Marblehead went
to the South Atlantic, where she patrolled between Brazil and Africa until February 1944. Convoy service in the North Atlantic
followed. In July and August 1944 she was in the Mediterranean Sea to participate in the invasion of Southern France, during
which her six-inch guns bombarded German defensive positions ashore. Marblehead's final active service, in mid-1945,
was as a training ship for Naval Academy midshipmen. She was decommissioned at the beginning of November 1945 and scrapped
in 1946.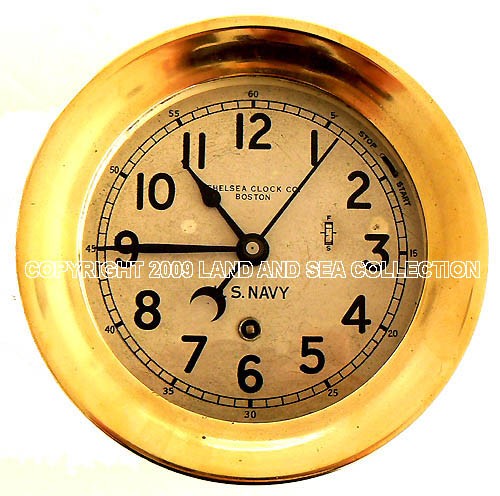 Face of clock with two small blemishes
This piece of anti-submarine warfare history is one of the rarest examples of a U.S. Navy
clock in existence. It will make a perfect gift for a collector or someone deserving of the finest.
DIMENSIONS:

6″  Diameter of Dial    3 3/8″ Deep
7 1/4″ Full Diameter      

ON
STAND:  7 3/4″ H x 9 1/4″ W 4″ D   Weight  7 lbs 8 oz