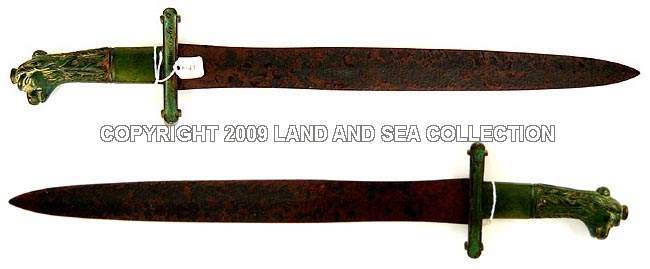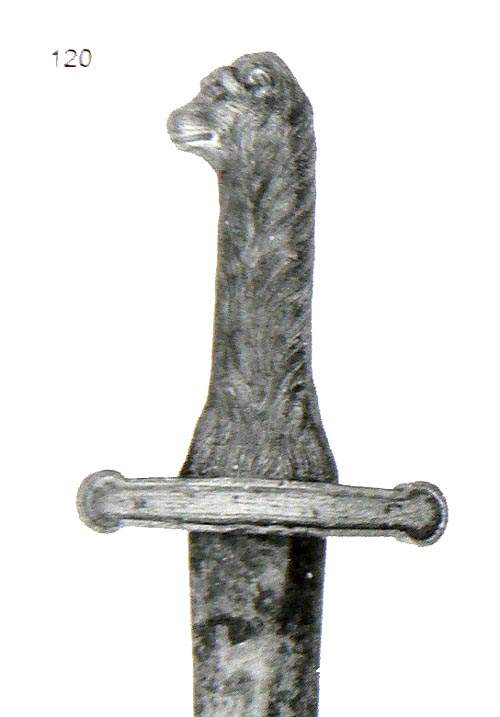 Presented is a M1784 French, double edge, short sword with finely crafted Lion Head hilt. A simple knob
capstan secures the tang with everything held tight. The bronze hilt which is in perfect condition, has a rich
deep green patina which varies in tone from light to dark. The blade is heavily encrusted with rust, much of which is
flaking, making the colors range from reddish on the surface to dark brown. The blade holds the semblance
of an edge. There is no scabbard.
On the crossguard penned in ink is written E.56.7.1…HH1167. This number was assigned
by the museum which recently sold the sword to benefit their "Collections Fund". The small white tag on the hilt repeats this
information. There are no other markings.

Ref.
LHOSTE, "Les Sabres
Portes Par L'Arme'e Francaise", page 104, Figure 120, Glaive de l'Artillerie des Colonies.

DIMENSIONS:
Length overall 24 3/4″  Hilt 5
1/8″ Blade 19″
Blade width max 1 5/8″
Weight  2 lbs 5 1/2 oz
    Arrow points to museum's accession
number

           Wonderful
range of green patination
   

Straight crossguard with rounded ends 

            Prominent
capstan end fitting




Rust encrusted blade with flaking
OUR UNCONDITIONAL NO NONSENSE GUARANTEE:
If not completely satisfied with your purchase it may be returned, if without damage, within three days of receipt in its
original packaging. Return items must be insured for their full value. Only a prior email authorization by us for the return
is required. Shipping charges are  included in this offer if the error is due to our fault.

International
buyers welcome, but must inquire first. You are responsible for knowing the your country's
laws. We have satisfied customers in Argentina, Australia, Austria, Belgium, Bermuda, British Virgin Islands,
Canada, Chile, China, Czech Republic, Democratic Republic of Congo, Denmark, Estonia, England, France, Germany,
Greece, Holland, Hong Kong, Hungary, Iceland, Ireland, Israel, Italy, Japan, Kuwait, Latvia, Martinique, Mexico,
New Zealand, Norway, Nova Scotia, Panama, Poland, Portugal, Puerto Rico, Romania, Saudi Arabia, Scotland, Singapore,
Spain, Sweden, Switzerland, Thailand, Turkey, United Arab Emirates, USVI and the Eastern Caribbean.

ACCEPTED FORMS OF PAYMENT are
Bank wire transfer, cashier's check, money order, or personal check in which case the item will be held until cleared. No
credit cards or PayPal accepted on this item.



Copyright 2010 – 2009 by Land And Sea Collection™, All Rights Reserved