Presented
is a M1850 Ames Foot Officer's sword dated 1861 of which only 450 were made. The design calls for a
single edged blade with 9 1/2″ false edge and 3/4″ wide fuller running 21″ down the length, enhanced by etched floral scroll
work. The guard, knuckle bow and quillion are a single piece of cast brass with a pierced floral guard and reeded bow slotted
for a sword knot. The pommel is cast brass with small back strap, and carved laurel wreath, The shagreen covered grip is split
horizontally on reverse. The museum's accession number, E82.13.1, appears on the back of the blade under the quillion and
ion the tag.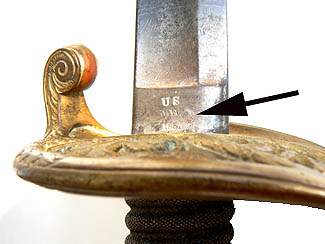 MARKINGS: It is marked on the obverse ricasso
with a US over JH over 1861
on three lines, and at the same place on the reverse, Chicopee over MA. Above the ricasso
on the obverse is a barely legible Ames Mfg. Co. over Chicopee.
This is barely discernible. There are no marks elsewhere that can be seen.
MUSEUM MARKINGS:
The museum's accession number, E82.13.1, appears on the back of the blade under the quillion. This number was assigned by
the museum which recently sold the sword to benefit their "Collections Fund". The small white tag on the knuckle bow repeats
the accession number.
CONDITION:
The hilt's patina is light greenish gold with variations in color. There are traces of the original gilding mainly on the
front of the guard, but also in the designs. The blade is gun metal grey with darker areas on both sides, two patches of rust
on the reverse, and a little pitting. The floral etching is difficult to see, but there under the right light. The shagreen
covered wood hilt is missing its two strand wire wrap, and there is a seam in the cover on the reverse due to shrinking. There is NO scabbard.
Ref. "The
American Sword, 1775-1945", by Harold E. Peterson, 1996. Pages
81-82.
Civil War Army Swords; A Study of the United States
Army Swords from 1832 through 1865″, by John Tillman, 2008. p 240.
DIMENSIONS:
35 3/4″ long overall. 30 1/2″ blade length Hilt 5 1/4″ L x 1 1/4″ W x 3/4″
Max width of blade 1″ Max thickness 3/8″ False
edge 9 1/4″

Fuller 5/8″ W x 21 1/2″ L Small
Fuller 1/8″ W x 15 3/4″ L Weight 1 lbs 15 oz
| | |
| --- | --- |
| | Prominent pommel with small back strap |
| | |
| --- | --- |
| Missing wire wrap and seam in shagreen on reverse grip showing shrinking | |
| | |
| --- | --- |
| Ornate floral design on blade is barely visible to naked eye | |
This is an interesting example of an Ames Civil War, M1850 Foot Officers sword which
was in limited production
BRIEF HISTORY Ames Mfg. Co.: The Ames Manufacturing Company,
Chicopee, Massachusetts, was founded in 1832 by James Tyler Ames and his brother, Nathan Peabody Ames. The company manufactured
small tools, cotton machinery, swords, cannons, and did casting of bells. They started production of military contract swords
in 1832 with the M1832 foot artillery sword, and ended with the M1906 cavalry saber in 1906. Ames produced more swords for
the American military than any other company before or since, totaling over 200,000 swords in service by the end of the Civil
War. In that time, at least ten different manufacturing marks were used on the swords. A little knowledge of the company history
helps place a date range for when each stamp was used. When the company started producing swords it was led by Nathan P. Ames,
and most marks reflected that fact. In 1847, Nathan died and left the company to his brother James. The markings on the blades
were immediately changed from N.P. Ames to Ames Mfg. Co. In 1848, the town of Cabotville was incorporated into Chicopee, Massachusetts,
and the marks were once again changed to reflect this. Blades dated as late as 1850 may still bear the Cabotville stamp, as
the old dies were probably used until they were worn out. In a much reduced state, they are still in business today. Mostly, from an
essay by Michael McWatters