MARKINGS: It carries the mark "MA" on its blade
and hilt. There is an interesting crest imprinted on the obverse of the blade, and the is a "H" on the reverse.
The museum accession number is hand painted on the cross guard.

 



 

CONDITION:
Considering its age,  this is a near perfect example which is in excellent  condition. The blade's edge are ground.
There is no corrosion. There is no scabbard.
OUR UNCONDITIONAL NO NONSENSE GUARANTEE:
If not completely satisfied with your purchase it may be returned within five days of receipt in its original packaging
if without damage. Return items must be insured for their full value. Only a prior email authorization from us for the
return is required. Shipping charges are  included in this offer if an error is due to our fault.


International buyers welcome, but should
know the laws of their country in regard to weapons. The must inquire first.  We
have satisfied customers in Argentina, Australia, Austria, Belgium, Bermuda, British Virgin Islands, Canada, Chile, China, Czech
Republic, Democratic Republic of Congo, Denmark, Estonia, England, France, Germany, Greece, Holland, Hong Kong, Hungary, Iceland,
Ireland, Israel, Italy, Japan, Kuwait, Latvia, Malaysia, Martinique, Mexico, New Zealand, Norway, Nova Scotia, Panama,
Poland, Portugal, Puerto Rico, Romania, Saudi Arabia, Scotland, Singapore, Spain, Sweden, Switzerland, Thailand, Turkey,
United Arab Emirates, USVI and the Eastern Caribbean.

  Copyright 2013 – 2010
by Land And Sea Collection™, All Rights 
This Fine Relic Has Been Sold.
Thank You!
AN OFFERING OF HISTORIC IMPORTANCE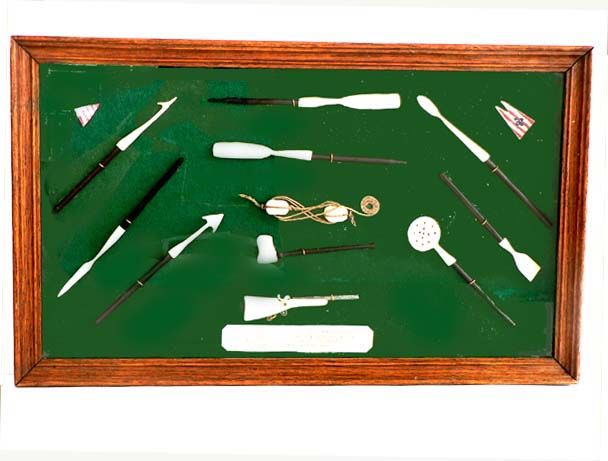 Presented is an interesting collection of miniature whale craft tools that were made by George Blanchard for his
nephew back in the mid 1850's on board the English whale ship Diana. The white sections of the hand crafted tools are
whalebone and the black sections are wood. The green felt mounting and 20″ L x 12″ H wood framing were added by the family
years later. 

Included in the 13 piece collection

are: 2 flags, 2 oars, 1 harpoon, 3 cutting spades, 1 gaff, 1 skimmer, 1 hatchet,
1 harpoon gun and a block and tackle.

 

 

The hand written paper label in block print reads:

 

 

"EBONY AND BONE MINIATURE WHALING TOOLS FASHIONED BY GEORGE BLANCHARD ON BOARD THE HULL WHALER DIANA AS
TOYS FOR HIS NEPHEW".  

INCLUDED IN THE SALE is the book "From the Deep of the Sea" by Charles Edward Smith, the Ship's Surgeon which details the ship's
last fateful voyage and is referenced below
| | |
| --- | --- |
| Block & Tackle and Hatchet | |
PROVENANCE:
The collection was purchased at auction in Plymouth, England by an English dealer on 21 DEC 2005, who
in turn sold them to us. The auctioneer reported they were part of an Estate Sale of the property of the descendents of the
maker, George Blanchard, who is a known crew member of the English whale ship Diana hailing from what was a major whaling
port in Hull, England between 1841 and 1869.
The
Diana was a steam vessel of 355 Gross Registered Tons built in Bremen, Germany, 1840. Under the command of Captain John
Gravill, Jr., she was beset by ice in the winter of 1866-67. Gravill, an old man, did not survive the hardships
of the voyage. He is buried in Hull's Spring Bank Cemetery. Hull had been the major whaling port of the UK for many
years, but whaling was in decline in those latter days. 
From
a descendant,  a crew member,  who served with George Blanchard on that fateful voyage. 
"George
Blanchard was one of 27 Hull men on the Diana when she sailed from Hull in the spring of 1866. My great, great grandfather
and his brother were also on board. There is a pretty full account of the voyage in From the Deep of the Sea which is taken
from the surgeon's journal.
I have done quite a bit of research on the voyage and inherited and collected quite a
few relics relating to the Diana."
Regards
Gordon C…..