CDR DAVID Mc CAMPBELL,
USN
(16 JAN 1910 – 30 JUN 1996)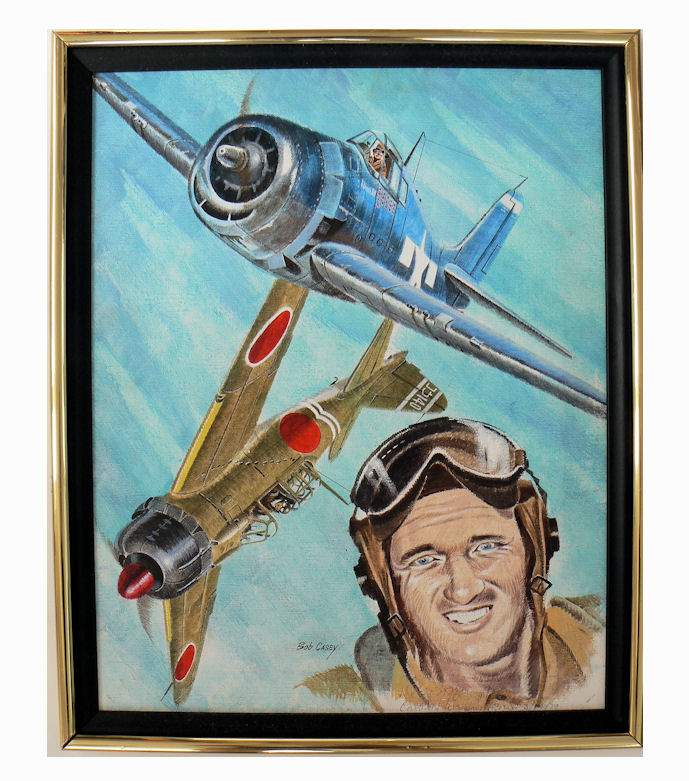 Signed by artist in two places, and
Autographed
by Captain David Mc Campbell, USN-Ret
Oil on Canvas
     Framed
22" x 18"
Viewing area  19 1/5" x 15 1/2"
Signed LC
and on back of stretcher
Autographed by Mc Campbell under his image
Ca 1976 or earlier     

Presented is an original oil painting of David Mc Campbell who was our Navy's Ace of Aces in WWII having downed
34 enemy fighters in the major battles in the Pacific Theater of Operations. This makes Commander David Mc
Campbell the Navy's all-time leading ace with 34 aerial victories during World War II. In October 1944, Commander Mc
Campbell and his wingman attacked a Japanese force of 60 aircraft. During this mission, Mc Campbell shot down nine enemy
planes, setting a single mission aerial combat record. When he landed his Grumman F-6F Hellcat, his six machine guns had two
rounds remaining and the plane had only enough fuel to keep it aloft for 10 more minutes. He was the top ace to survive the war, and he received the Medal of
Honor, the Navy Cross, three Distinguished Flying Crosses, the Legion of Merit, the Silver Star and the Air Medal. He died
at age 86 in 1996 having attained the rank of captain..
An Arleigh Burke Class Guided Missile Destroyer, David S. Mc Campbell, DDG-85 was christened
by Madeleine Albright, SECSTATE, 2 JUL 2000, and was commissioned in San Diego after a stop in West Palm Beach in 2002. CDR
Mark C. Montgomery, USN was the ship's first commanding officer.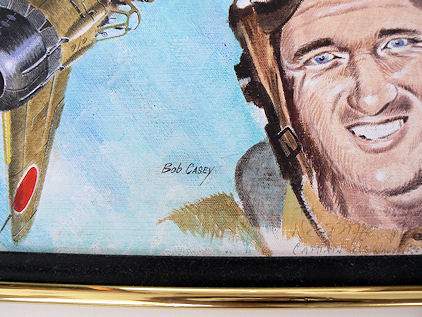 THE ARTIST:
  Bob Casey served
in a destroyer during WW II before he qualified for sub duty serving in submarines. He was involved in the USS Lion fish,
a Fleet Type submarine memorial in Massachusetts. Little
is know about his art background and training after the War, but he was devoted to the Submarine Veterans Association and
assisted in their reunions in the late 1990's and early 2000's. His early works were of surface warships and submarines, but
he did many more paintings of military aircraft than of ships. He died on January 17, 2004.
=LEFT>


The painting is autographed by Mc Campbell under his image. It is hard to read, but  this
was added on the back:
"To Joe, Sincere regards"
David Mc
Campbell
Captain, USN-Ret, 3/17/79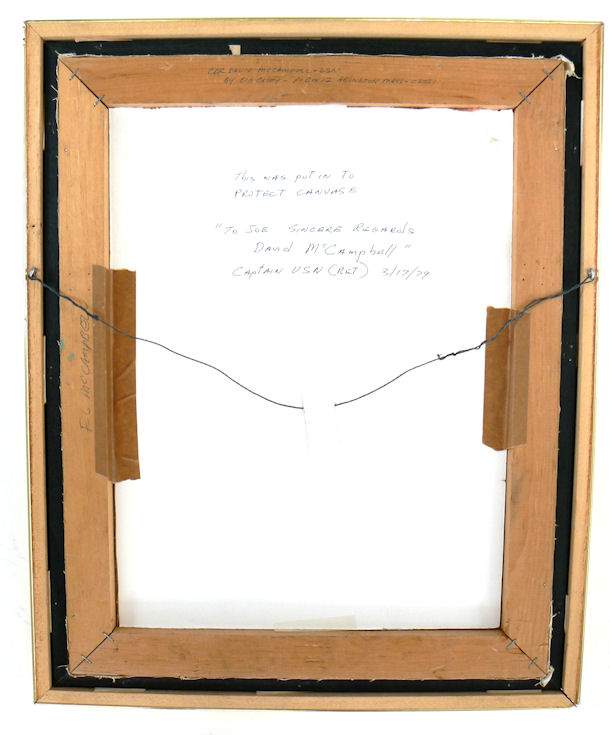 FROM MC CAMPBELL'S ACES SQUADRON FLIGHTLINE PUBLICATION
ONLINE
Air Group 15
Air Group 15 of the USS Essex
by Morris Markey
Reprinted from:
Liberty Magazine, May 26, 1945
They went out to the Pacific war hundred young men. Seven months later only forty-five of them came home
unhurt. But in those immortal seven months of naval history they had become the undisputed champions of the Pacific Ocean areas. Indeed they had inflicted on the enemy probably more damage and destruction
than any other one hundred young men who have fought anywhere in this war. And the price they made the Japanese pay for their
own losses is almost fantastic.
They were the pilots of Carrier Air Group 15.
Their ship was not only a "carrier
of the Essex class": she was the Essex herself. It had been
my great fortune to sail with this ship as correspondent for Liberty
in the Marshall Islands
campaign. For that flight, Carrier Air Group 9, then champion, was aboard. When I rejoined the ship for the campaign against
Saipan, Guam, and all the stunning events to follow, Air
Group 9 had gone home for the rest it had earned with six months of hard fighting, and a brand-new group had come aboard.
Its number was 15. Naturally, I asked the captain of the Essex, Ralph Ofstie, what he thought of his new aviators.
Captain, later
Rear Admiral Ofstie frowned heavily. "I had to give them hell," he said. "Last week I took them up for a little try-out raid
on Marcus and Wake islands. By George, they thought they were winning the war then and there! Fifty planes damaged they went
in so low over the AA fire. They were just too damned eager." Then he smiled. "But they listened to me. They've steadied down
now. You know, there's something about the young fellows in this outfit that's a little different. I wouldn't
be at all surprised if they turn out to be the best group we've had out here."
It was a remarkable prophecy.
In
the months to come, Air Group 15 was to figure heavily in twenty-three major engagements, including two full-scale naval battles.
It was to destroy battleships, carriers, and troopships, and more airplanes than any other group had ever destroyed. It was
to neutralize a dozen enemy bases, send scores of cargo ships to the bottom, destroy docks and dumps, gun emplacements and
supply depots by the hundreds. It was to move twice as close to Japan as any other carrier group had ever been to set the record
for enemy aircraft shot down in a single day, produce the leading Navy ace of the war, and win glory and medals for all its
survivors.
You can read the rest of this story on Mc Campbell's Aces Squadron website, click
here! http://boatcoach.tripod.com/id71.html