SS PRESIDENT COOLIDGE
HANDCRAFTED MODEL
Dollar Lines & U.S. Navy Ship
(1931 – 1942)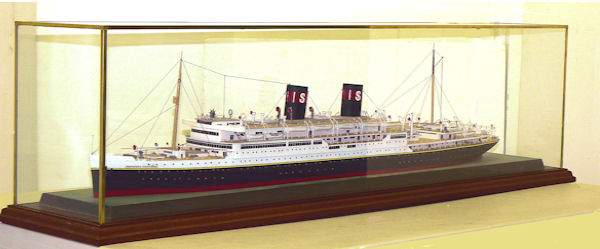 Mounted on a Mahogany stand with brass
trimmed glass case, this vintage model is a work of maritime art.

 

 

Presented

is a large scratch built passenger ship of the Dollar Lines

which was launched in 1933. It is made using traditional wood block construction for the hull and superstructure.

In addition, it is heavily detailed using cast to scale metal parts for deck hardware such as bollards, winches, hatch covers,

skylights and more. Models such as this were used as sales displays in travel agencies, and are quite scare today.

This one, because of its size and
quality of construction, makes an impressive display.

 

DIMENSIONS: 

 

Length overall  40 1/2″         Beam 5″         
Height 9/2″ 
Base & Cover   48"
L x 9 1/2" W x 12" H       Weight  25 lbs                          

                         
Stern view of finely shaped hull

SHIP'S HISTORY: The SS President Coolidge was a luxury ocean liner that measured 654
ft in length and was originally built, along with her sister ship the SS President Hoover, for Dollar Steamship Lines.
They were the largest merchant ships the US had built up to that time. In 1938, when the Dollar Steamship Lines collapsed,
she was transferred to American President Lines. In 1941 she was converted to carrying troops in the South Pacific.

Launched
in February 1931, the SS President Coolidge was built by Newport News Shipbuilding & Dry dock Co. in Newport News, Virginia,
USA. Prior to World War II, she was operated by the American President Lines as a luxury liner providing trans-Pacific passage
and commercial service. The Coolidge was aimed at holiday makers seeking sun in the Pacific and Far East. During her time
as a luxury liner, she broke several speed records on her frequent trips to Japan from San Francisco. Passengers had a luxurious
experience on the ship with spacious staterooms and lounges, private telephones, two saltwater swimming pools, a barber shop,
beauty salon, gymnasium and soda fountain.

          After observation
station

 

WW II:

In 1941, as war time activities increased, the US War Department began to use the President Coolidge

for occasional voyages to Honolulu and Manila. She also helped evacuate Americans from Hong Kong when Japanese-British relations

became strained in 1940. She was later called upon to assist in the evacuations of many people from Asia as the Japanese increased

aggression. In June 1941, the Coolidge went into service with the American Army as a transport ship for reinforcing garrisons

in the Pacific. A few months later the Japanese attacked Pearl Harbor on December 7, 1941. After this, the Coolidge was stripped

of her finery, painted haze gray, mounted with guns and turned into a troop ship. Many of the fixtures and fittings were removed

or boarded up for protection. After full conversion in 1942, she could carry over 5,000 troops. As a troop carrier, she was

never intended to see any action.

A large military base and harbor had been established on Espiritu Santo and the harbor was heavily protected by mines.
Information about safe entry into the harbor had been accidentally omitted from the Coolidge's sailing orders, and upon her
approach to Santo on October 26, 1942, the SS Coolidge, fearing Japanese submarines and unaware of the mine fields, attempted
to enter the harbor through the largest and most obvious channel. A friendly mine struck the ship at the engine room and moments
later, a second mine hit her near the stern.

Captain Henry Nelson, knowing that he was going to lose the ship, ran her aground and ordered troops to abandon ship. Not
believing the ship would sink, troops were told to leave all of their belongings behind under the impression that they would
conduct salvage operations over the next few days.

Over the course of the next 90 minutes, 5,340 men got safely off of the wreck and to shore. There was no panic as the troops
disembarked – many even walked to shore. However, the captain's attempts to beach the ship were unsuccessful due to the coral
reef. The Coolidge listed heavily on her side, sank, and slid down the slope into the channel. She now rests on her port side
with her bow at a depth of 70 ft and her stern at 240 ft.

There were 2 casualties in the sinking of the Coolidge: The first was Fireman Robert Reid, who was working in the
engine room and was killed by the initial mine blast. The second, Captain Elwood J. Euart, US Army Field Artillery, had safely
gotten off the Coolidge when he learned that there were still men in the infirmary who could not get out. He went back in
to one of the sea doors, successfully rescued the men but was then unable to escape himself and he went down with the ship.
A memorial to Captain Euart is located on the shore near the access points for the Coolidge.
This model is truly a magnificent
work, and makes a beautiful display.  
CONDITION: This is a hand made model, and is in excellent
condition considering its age. Overall, there is a subdued state of aging with a subtle patina, and some minor paint
loss on fittings all of which adds to its charm. This is a fine, high quality model which is a work of maritime
art  that anyone will be proud to display. There is a custom glazed brass trimmed case which acts as a dust
shield included.