SAILOR MADE EARLY 
NEW ENGLAND COASTING SCHOONER MODEL
DIORAMA Ca 1870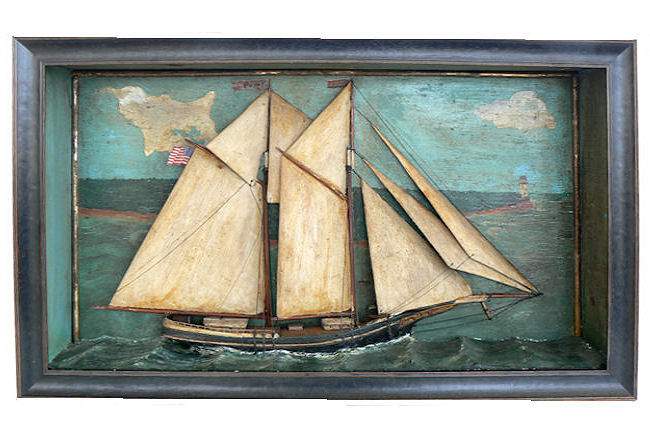 Presented

is a very rustic example of a

seafarer's carefully made shadowbox or diorama of a two masted, gaff rigged, black hulled, schooner flying the American

flag. Painted in the backboard, as if flying from the  foremast truck is the owner's pennant and from the main truck

a banner with the ship's name, POMP. She is of the type that carried trade up and down the East Coast from New England. 

The

model is housed in a framed wood case without glass, and  set in a plaster of Paris sea which has been painted

to show the affect of the wind and the ship's hull as it sails through the waves. The painted background shows a pinnacle

of land with a lighthouse in the background stretching from left to right with fair weather clouds on a blue sky.

The sails are carefully carved out of wood and are a full compliment of light
weather canvas consisting of a flying jib, jib, and fore stays'l at the bow. The foremast carries a fores'l and fore tops'l
with a fisherman stays'l between the two masts. The main mast carries a similar tops'l over a large main from which her American
colors fly from the leech.

Block waterline models of this type, were made as a spare time occupation of sailors at
sea. They varied in their exactness to the ship's design since plans were not available and in the quality of the
workmanship. However, the sailors were exacting in the placement of the vessel's sails and rigging. This one seems to
portray the vessel as she likely appeared, but was done in such a manner as to have a rustic appearance which is very appealing
as a work of Folk Art.
| | |
| --- | --- |
|    Raise poop deck and main cabin |   Midships section with chain plates |

| | |
| --- | --- |
|        Head sails & dolphin striker | |

SCROLL DOWN TO GALLERY FOR MORE PICTURES


DIMENSIONS:

 

Case 31″ L x 18 /2″ H x 6″ D

Model Length Overall  25″ L x 15″ H x 2
3/4" D      Length on Deck 13 1/2"

Weight

 13 pounds

CONDITION:
This is an older model and shows some age which most people would overlook. The forward railing where it joins the bowsprit
has lifted, and the wood hull has dried out in a temperature controlled environment and has gotten slightly smaller leaving
some space between it and the sea. The plaster of Paris sea has a crack under the counter at the stern which
have been repaired and repainted. These are only reported for the sake of thoroughness. Unless, you are picky, they
are not objectionable.