DAVEY & Co, LONDON 
VINTAGE
MARINE
SIGNAL LAMP
THE REAL McCoy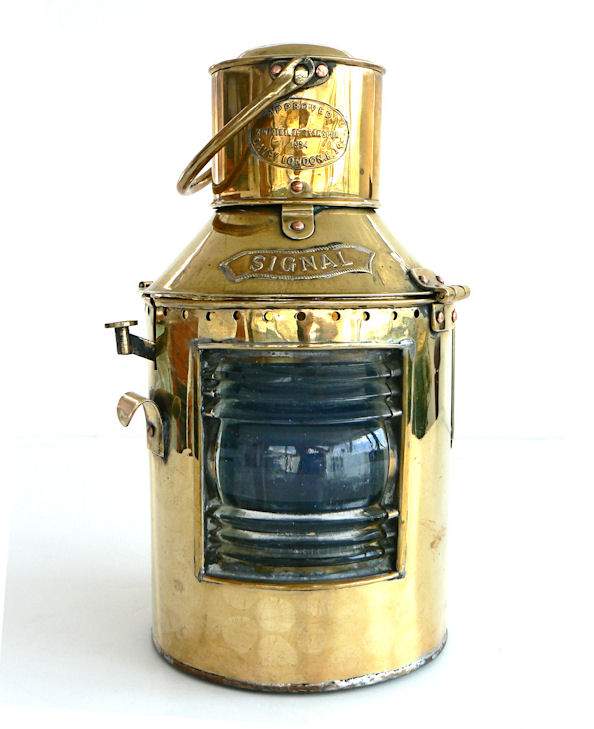 Presented
is a marine oil fired signal lamp made by the famous Davey & Co., London. It's quality and workmanship
sets it apart from lesser brands, and it is in remarkably fine condition. The maker's plate says Approved Ministry of
Transport,1954, Davey London. E.14. What makes this lamp superior to other signal lamps of this design is it's heavy
gage brass, quality workmanship, solid mounting fittings, and heavy weight. The detailed pictures should help see this. 

We
are always on the lookout for authentic old Davey lamps, and this is the first we've found in two years. 

Dimensions:

14 ½ H x 7 ½" diameter. Add 3" for handle.
Weight: Very
heavy for its size at 5 lbs 10 oz.

MAKER: Davey & Co's operations date back to 1885. They originally operated from London's West India
Docks selling boat and ship fittings, gear and lamps. They are still in business today, making and selling the same type of
products. But, many of there marine navigation lights are those now made by others. Contact them at Unit 2, Martlesham Creek
Ind Est.,Sandy Lane, Martlesham, Suffolk, IP12 4SD, UK.


CONDITION: This lamp is in exceptional
original condition, and complete in all respects. The
shutter works smoothly, all parts are in place, and the lens is in excellent shape as is everything else. There are
some small dimples, but nothing distracting. Everything speaks of quality and skilled craftsmanship which is befitting
of the Davey name.
| | |
| --- | --- |
| |           Right quarter showing hinged top |
| | |
| --- | --- |
|        Left side inspection port and handle |    Showing screen, reflector, and reservoir |