CAPT/CDR H.D. NICHOL, ROYAL NAVY
FULL DRESS UNIFORM & COCKED HAT, Dated
1929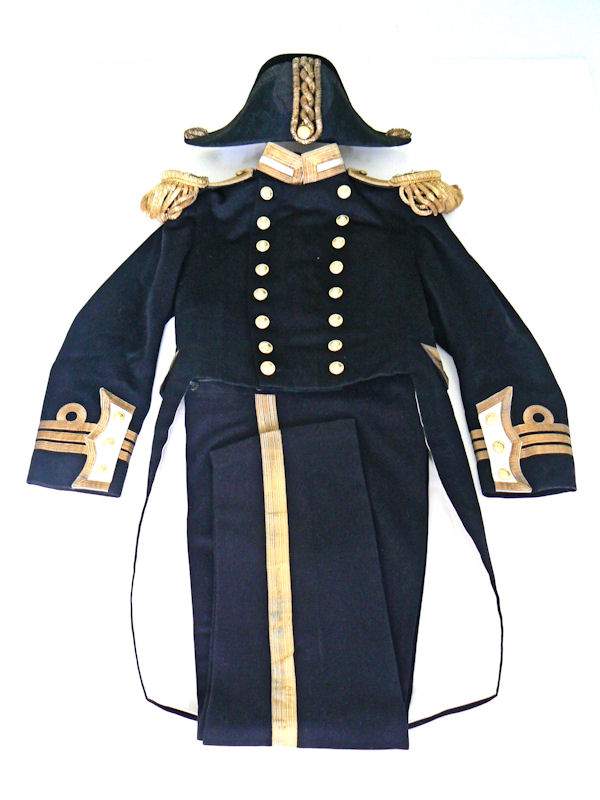 Full Dress Winter Blue    
Dated 11/29

Made by George Spencer, Portsmouth     Approx.
Size  38 Medium

Label CDR H.D. Nichol, RN
Cocked Hat by Gieve, Mathews

Presented is a British Royal Navy, full dress, winter blue
uniform owned by Captain H. D. (Henley Dale) Nichol, RN (1894-1970), when he was a commander in 1929 while serving
in HMS Vernon. The uniform is in exceptional condition without fault. Then CDR Nichol joined the Royal Navy in 1907
and had a distinguished career serving in WW I and WW II. He was mentioned in dispatches for gallantry when serving in HMS
Espigele in 1918. His son, Peter Dale Nichol also achieved the rank of CAPT and in his las posting was Aide de Camp to Queen
Elizabeth II.

The handstiched tailor's label inside the jacket reads:

Geo. Spence
8 Ordnance Row
The Hard. Portsmouth, 11-29

Uniforms of this quality from a noted naval officer are rare.
They are wonderful display items, and in this era was similar to the Royal Navy Uniforms that date back to Lord
Horatio Nelson. They serve to establish a historic connection with the past as is shown by this lithograph of British
Royal Navy Uniforms dated 1834. This surviving example of a commander's uniform of this style is in its original "fine"
condition.

PICTURES OF OTHER ITEMS ARE PROPS AND ARE NOT INCLUDED

        Admiral
Captain              Mate
Midshipman

CONDITION: The Uniform and cocked hat are in "fine"
original condition. The epaulets are from an earlier period, Ca 1860, made of gold bullion and are of the rank of midshipman.

   Cocked hat with Medicus Collection saber not included – inquire

Courtesy of Royal Navy (RN) Officers, 1939-1945

Married; .. children (one of which is Capt. Peter Dale Nichol, RN).

29.04.1894
South Shields district, Durham / Tyne and Wear
–
(09?).1970
Gosport district, Hampshire

| | |
| --- | --- |
| S.Lt. | ? |
| Lt. | 15.08.1915 |
| Lt.Cdr. | 15.08.1923 |
| Cdr. | 30.06.1929 (retd 29.04.1944) |
| Capt. (retd) | 29.04.1944 (reverted to retd 1945) |

 

| | | | |
| --- | --- | --- | --- |
| | MID | 20.09.1918 | HMS Espiegle (Red Sea) |

15.01.1907

 

 

joined RN

07.1921

–

(08.)1923

Torpedo Officer, HMS Telemachus (torpedo-boat destroyer)

02.10.1923

–

(01.1925)

HMS Vernon (torpedo school, Portsmouth)

22.04.1925

–

(05.1926)

Torpedo Officer, HMS Centaur (cruiser) & as Squadron Torpedo Officer on staff of Commodore Commanding Atlantic
Fleet Destroyer Flotillas

30.04.1927

–

((07.1927)

HMS Revenge (battleship) (Atlantic Fleet) (for torpedo duties)

18.01.1928

–

(06.1928)

HMS Defiance (torpd school ship, Devonport)

23.07.1929

–

(02.)1931

HMS Vernon (torpedo school, Portsmouth)

01.08.1931

–

(09.)1932

Torpedo Officer, HMS Revenge (battleship) & as Squadron Torpedo Officer, 1st Battle Squadron (Mediterranean)

15.12.1932

–

(06.1933)

Squadron Torpedo Officer on staff of Rear-Admiral (D) Commanding Destroyer Flotillas of the Mediterranean Fleet [HMS
Coventry (cruiser)] 

(01.1934)

 

 

no appointment listed

03.05.1934

–

(02.)1936

Executive Officer, HMS Renown (battlecruiser) (Home Fleet)

02.11.1936

–

01.02.1937

Tactical Division, Admiralty [HMS President]

02.02.1937

–

(10.1938)

HMS Vernon (torpedo school & experimental establishment, Portsmouth) (for motor torpedo boats) 

23.01.1939

–

(02.)1941

Torpedoes and Mining Department, Admiralty [HMS President]

(12.1941)

–

(08.1943)

HMS Vernon (torpedo school & experimental establishment, Roedean School, Brighton) *

09.1943

–

(07.1945)

HMS Vernon (torpedo school & experimental establishment, Roedean School, Brighton) (additional; for miscellaneous
duties)

* indexed,
but not listed as such

        Back of Full Dress Royal Navy Commander's Uniform Ca
1929

            SCROLL
DOWN TO GALLERY PHOTOGRAPHS

UNIFORM SIZE:


JACKET:
TROUSERS:

Neck 15 1/2"
Waist 35"
Shoulders 18 1/2" across                       Inseam
30"
Waist 35 1/2"
Hat 6 3/4"
Sleeves 23 1/2"



UNCONDITIONAL
NO NONSENSE GUARANTEE: If not completely satisfied with your purchase it may be returned within five
days of receipt in its original packaging if without damage. Return items must be insured for their full value. Only a prior
email authorization from us for the return is required. Shipping charges are  included in this offer if an
error is due to our fault.

International buyers welcome, but should
inquire first.  We have satisfied customers in Argentina, Australia, Austria, Belgium, Bermuda, British
Virgin Islands, Canada, Chile, China, Czech Republic, Democratic Republic of Congo, Denmark, Estonia, England, France,
Germany, Greece, Holland, Hong Kong, Hungary, Iceland, Ireland, Israel, Italy, Japan, Kuwait, Latvia, Luxembourg, Malaysia,
Martinique, Mexico, New Zealand, Norway, Nova Scotia, Panama, Poland, Portugal, Puerto Rico, Romania, Saudi Arabia,
Scotland, Singapore, Spain, Sweden, Switzerland, Thailand, Turkey, United Arab Emirates, USVI and the Eastern Caribbean.

SHIPPING, PACKING & INSURANCE to the 48 contiguous States
$35.00


=LEFT>

ACCEPTED FORMS OF PAYMENT are Bank wire transfer, cashier's check, or
personal check in which case the item will be held until cleared. No checks from overseas buyers, no credit cards or PayPal
accepted on this item.
Buy this very special Royal Navy Period uniform from the early 1900's Now! 
Copyright 2010 by Land And Sea Collection™, All
Rights Reserved