One of Mystic Seaport's
most admired vessels
FAMOUS EXCURSION STEAMER "SABINO"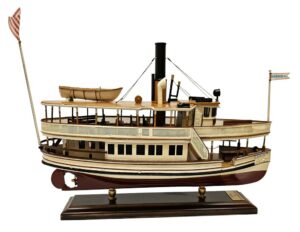 Completely Finished & Display Ready
MODEL DIMENSIONS:
14 1/2″ L x 13 3/4″ H x 5 3/8″ W
Presented 

is a beautiful model of the coastal steamer

SABINO

, which was launched from the W. Irving Adams
shipyard in East Boothbay, Maine in 1908.
PRICE $350.00                        Shipping: $55.00
Presented 

is the coastal steamer

SABINO

, which was launched from the W. Irving Adams shipyard in East Boothbay, Maine in 1908. She will celebrate her 100th birthday next year. Originally named

TOURIST

, she was reamed in 1921. Most of her life was spent running the Damariscotta, Kebbebec rivers, and Casco Bay. Over the years modifications were made to her hull with the fitting of sponsons for added stability, deck, and pilot house, all to increase safety and passenger comfort. Her configuration today is as it was in 1927. She would
be perfectly recognizable to those who knew her in service on the Damariscotta River in the early years of this century.
SABINO
was
acquired by Mystic Seaport in 1973 and underwent a five-year refit. In 1992 she was declared a National Historic Landmark
Pilothouse over foredeck 
Fan tail stern
The adoption of steam for small passenger and cargo-carrying vessels in the United States occurred in the first decade of the 19th Century. Steam passenger and cargo vessels dominated the American Excursion Fleet. One of two surviving members of the unlicensed steamer
 that flitted around like mosquitoes on the inland waters of the United States, SABINO is the sole survivor of these small excursion steamers built on the Atlantic Coast. The other survivor, Virginia V, is the sole Pacific Coast-built small excursion steamer. These two vessels alone represent a fleet that in June 1932 numbered an astounding 260,983 documented vessels. The fact of their survival, and a contributing factor in their significance, is
the fact that both continue in operation, keeping alive a tradition of a now vanished technology.
MODEL'S CONSTRUCTION: She is built using new procedures
and materials to replicate in the tiniest detail all the things that make up an accurate recreation of this outstanding quality.
These include a properly formed hull finished in multiple coats of hand-rubbed enamel and varnished brightwork. The screened
rails, wood benches, accurate standing rigging, tall stack, shielded running lights, and all sorts of deck hardware and fittings
are accurate to the last detail.
This fine model will be a perfect addition to your home, den, or office.
SABINO'S HISTORY: For a detailed

history see: http://www.nps.gov/history/maritime/nhl/sabino.htm

SABINO'S SPECIFICATIONS:

L/B/D: 57′ 1″ × 22′ 3″ × 6′ 4″
Official Number 205213
Displacement: 24 GRT, 8 Net
Hull: wood
Built: W. Irving Adams shipyard in East Boothbay, Maine in
1908