U.S. NAVY AIRCRAFT
TAIL HOOK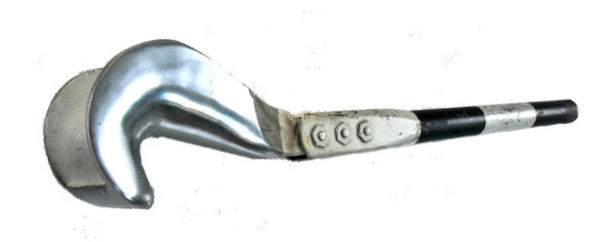 SELLER'S MEMBERSHIPS INCLUDE THE TAILHOOK ASSOCIATION, ASSOCIATION
OF NAVAL AVIATION, SILVER WINGS, AND THE NAVAL HISTORICAL FOUNDATION.

Photo of Vietnam Era A6 

HOW THEY WORK: Prior to making an "arrested landing", the pilot lowers the hook so that it will
contact the deck as the aircraft wheels touch down. The hook then drags along the surface until an arresting cable which
is stretched across the landing area is captured. The cable lets out, transferring the force of the landing aircraft
to the arresting gear through the cable to large dampeners below deck. A "trap" is often-used slang for an arrested landing.
An aircraft which lands beyond the arresting cables is said to have "boltered" Occasionally, the tail hook bounces over one
or more of the wires, resulting in a "hook skip bolter."
CRITICAL DIMENSIONS:
LOA 25"   Shaft 18" L
x 1 1/8th OD    Hook 7" L x 3 7/8th Max width     7 pounds.

MARKS:
On
starboard side of hook a large "P".
On
the flange joining shaft to hook a small "P L"
On
the back side of the hook there are numbers and letters on a straight line, but some are upside down.

Arrow points to Part Number
As best we can read the stamps: "LEOEI" then upside down 7097 then right
side up USA then a large "H" with I O above on their side, then right side up some numbers which look like 1911
A.
| | |
| --- | --- |
| |       Arrow points to small "PL" |
CONDITION: The tube has been cutoff
at the point the collar attaches to the hinge on the aircraft. It is otherwise complete and in the condition of last use.
Buy this rare relic of Naval Aviation! It will make a great addition to your office,
den or family room.

Current Era FA-18 Hornet trapping a wire