RARE BULOVA ACCUQUARTZ NAVIGATOR MK III
MID 20th Century
SHIP'S CHRONOMETER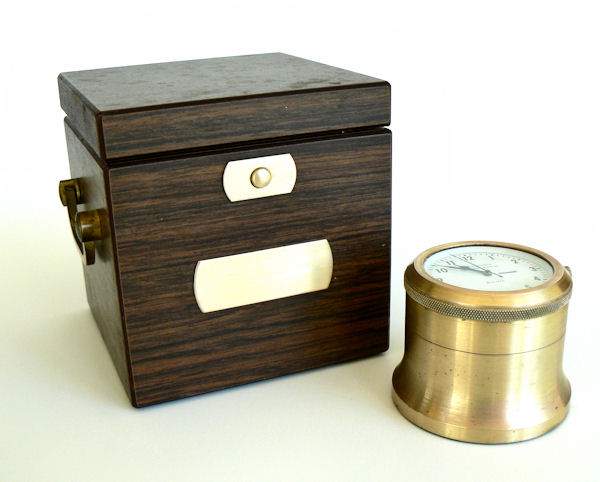 NEAR MINT CONDITION

Presented is a 19th Century boxed chronometer made by Bulova
Watch Company. It was purchased new by Joel Jacobs as a chronometer for celestial navigation in 1979 for use on board SV
Bagheera for a passage from Seabrook, TX to St. Thomas, USVI, and thereafter. Even though used at sea for eight years, it
is in remarkable, near new condition, and is keeping perfect time. Since 1985, the chronometer has spent the last
25 years in storage. When fitted with a new battery it started right up, and has been keeping precise time ever since. The
replacement battery is a 1.5 V alkaline, Radio Shack no. 2300912.
The Accuquartz movement has time, day and date functions, and the setting
knob stops the clock. This allows for precision stetting to a time tick from WWV. The movement is housed in
a 4 5/8 inch square, facsimile wood grain box with a name plate, brass drop down handles, and a Plexiglas dust cover. In
place of gimbals, there is a shock absorbing spring in the box upon which the clock mounts.
The face of the clock
measures 2 1/2″ in diameter and the upper one third of the case screws off to show the movement and battery housing.
The back of clock is marked G 21509 over N3. 
This chronometer was made
in very limited quantities. It will make an exceptional addition to a horological, military or Bulova Accutron collection.




CONDITION: The movement is keeping
excellent time consistent with a quartz comparison watch set to the National Atomic Time Signal. Overall, everything
is in exceptionally fine condition, buts shows some minor spots of age on the brass housing. The face is like new. The case is in excellent condition considering its age and service at sea

This is a very rare example of
a mid 20th Century ship's chronometer from a pedigreed clock maker with a history that dates back to 1875. It is ideal
for someone who has a collection of the finest chronometers.

              Note battery
compartment on the right

| | |
| --- | --- |
|            Housed in traditional chronometer style case | |

This superior relic will be a worthy addition
to any nautical collection.


CASE DIMENSIONS:            
4 5/8″ square x 4 1/2″ H
Diameter clock
– outside        2 1/2″ Height    2 1/4"

Weight 3 lbs 13 oz                
Replacement battery 1.5 V alkaline, Radio Shack 2300912.