LARGE HAMILTON
BOXED CHRONOMETER
SHIPS CLOCK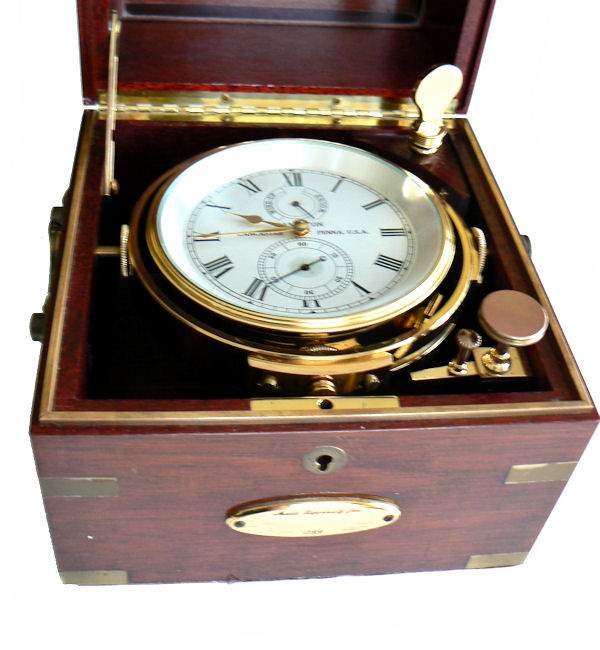 CASE DIMENSIONS: 7 1/2″ square by 7"
high                 Weight
12 pounds

                                      


Presented is a Vietnam Era HAMILTON boxed and gimbaled ship's clock using
an 11 Jewel, 8 Day, English FEMA, platform movement. It was made in limited production as a presentation piece. Housed
in a traditional three tier, high gloss, varnished Mahogany case with full gimbal mount and
side handles, the case is of the highest quality. The clock is in immaculate condition and has been completely
serviced by a master clock smith and chronometer expert with thirty years experience. The exterior brass work has a pleasant
patina of age, and the interior brass is shiny with all of its original lacquer. It would make an outstanding gift.




 

 

The dial looks as near new except for a smudge of oil around the seconds bit.
It reads HAMILTON LANCASTER, PENNA., U.S.A. in acid etched letters and Roman numerals. The Up/Down Indicator is at top, hours-minute
bit under.

 

This movement was just professionally serviced and is
keeping precise time in step with a quartz comparison watch which is set to atomic time. The custom case
is in exceptional condition with a couple of minor blemishes, and a small triangular chip in the finish on the right
corner of the lid. When fully wound, the count-up pointer does not go all the way up.  Furniture quality wood construction with HAMILTON WATCH Co. plate on face and "Made
expressly for" unnamed and "099" on a plate at the bottom. 

 

| | |
| --- | --- |
| |            Gimbal and outside of brass tub |

 

This superior example will be a worthy gift or as an
addition to any timepiece collection.